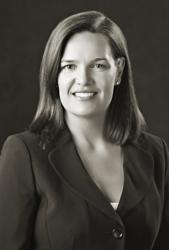 "Children should know very little about what is happening in the divorce and the collaborative process increases the chances that one will be able to do that."
Fresno, California (PRWEB) February 18, 2013
Fresno Divorce Attorney and Certified Family Law Specialist*, Erin Childs gives 5 reasons why choosing the collaborative law route versus traditional divorce litigation route is better for divorcing spouses and their family.
1. It protects litigants' children: The collaborative process is set up so that children are protected from the trauma and drama of courtroom appearances and battles. Litigations work through a process of six-way meetings with collaboratively-trained attorneys, and divorce coaches. They resolve their family law issue through a series of six-way meetings that are held with the expectation that everyone is respectful, honest, and forthright.
Childs states, "Children should know very little about what is happening in the divorce and the collaborative process increases the chances that one will be able to do that."
2. It preserves litigants' relationships: Instead of going through a nasty court battle where the name of the game is to make the opposing party look as horrible as possible and scorch the earth, litigants must negotiate respectfully. The goal is to preserve the relationship between the future ex's so they can continue raising their children respectfully after the divorce is over.
3. It is generally a lot faster than regular divorce litigation proceedings: If one chooses to go through the traditional litigation process and make multiple court appearances to resolve the divorce, one will be tied up in a very long process. Court appearances are set out many months and often times litigants cannot get a courtroom for trial, etc. With the collaborative process, one can get started right away.
4. It is a better use of parties' money: When you go through the collaborative process, every minute that you pay for is a minute used productively by your attorney and your divorce coach. In the alternative, through the divorce litigation process, a lot of time and a lot of attorneys' fees are incurred with the attorney simply waiting around in the courtroom to be heard for a few minutes. In the collaborative process, your funds are used for your benefit and are well spent.
5. It is private: When you go through the regular divorce litigation process, everything is a public record. Anyone can access your records and read what is going on in your case. Very little becomes public record through collaborative divorce. Parties' privacy is protected, as is the privacy of their children.
Childs Law Office has been providing legal advice, counsel and representation in family law throughout the California Central Valley. Owner and Attorney Erin Childs is a respected litigator and a Certified Family Law Specialist with the State Bar of California Board of Legal Specialization that practices in areas of divorce, collaborative law, child custody, child visitation, spousal support, guardianships, juvenile dependency, adoptions and complex property division issues. Childs Law Office's mission is to educate, inform and enable you to make insightful decisions that protect your rights and interests. To see what Childs Law Office can do for you, visit childslawoffice(dot)com.