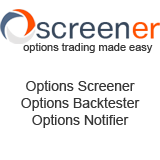 "There's nothing quite like it. Oscreener.com provides pre-calculated options strategies on thousands of stocks with integrated technical analysis, auto-notifications and backtesting," says Vlad Goloshchuk, Founder of Oscreener.com.
Dublin (PRWEB) February 05, 2013
Using a completely unique architecture, Oscreener.com enables a transparent and user-friendly approach to the options strategies screening process. This process helps options traders to identify higher probability options strategies and backtest these strategies to minimize risks before even entering the market.
For traders who wish to know the performance of their current entry and exit strategy without risking any capital, Oscreener.com can analyze the historical performance of multiple options strategies including Long Call, Long Put, Short Put, Bull Put Spread and Bear Call Spread, among others. This will help to improve strategy selection process, validate trading ideas and increase consistency.
Options Screener has a rich set of features including the following:
● Pre-calculated options strategies (e.g.: Bull Put Spreads, Bull Call Spreads)
● All options strategies can be screened by related stock technical analysis. (e.g. Monthly stock performance)
● Pre-calculated risk, potential returns, and distance to breakeven for all options strategies. Simply set a budget (max risk) in US dollars per trading strategy.
● Helpful visualization. Return on risks, breakeven points and remaining expiration time are already applied to the related stock charts to help visualize the future strategy performance and potential risks until expiration.
Notifier is an extra feature at Oscreener.com helping options trades to stay consistent with their strategies. Each email notification can be carefully configured to notify a user when higher probability trades are available on the market.
Options Backtester functions as a way for observing and evaluating how selected options strategies perform using historical data. This will help to validate entry and exit time and identify optimal strategy before entering the options market.
The new stock options backtester is available now at http://www.Oscreener.com.
Media Contact
Julia Bespala
+17734209470
media(at)oscreener(dot)com