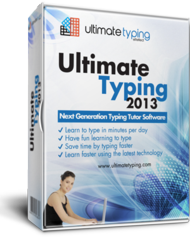 The step-by-step video tutorials are a unique feature, one not found in any other typing tutor software system to date.
New York City, NY (PRWEB) February 01, 2013
Since its launch, Ultimate Typing™ has been consistently viewed by reviewers and customers alike as a groundbreaking typing instructor software. Ultimate Typing™ has been designed by experts and is informed by the latest research in order to provide a worthwhile learning experience for everyone who wishes to have better typing skills.
The software package comes with a great variety of tools, features, and practice material. However, what seems to steal the show is the EasyLearn™ technology it includes. This technology takes the form of a step-by-step video instructor who provides clear, to-the-point and doable video instructions from the minute the user installs the software on their computer and until they've achieved the status of pro typist.
The step-by-step video tutorials are a unique feature, one not found in any other typing tutor software system to date. Ultimate Typing™ designers have put a lot of effort and knowledge in creating these video tutorials. Their aim was to offer a comprehensive and easy to follow experience for beginners and reluctant typists, as well as to provide support for advanced learners. The learner gets substantial support and guidance through these interactive tutorials and this ensures their typing success. With this technology, Ultimate Typing™ has managed to make typing for beginners a fun and interactive learning experience rather than a daunting task. Another benefit of this EasyLearn™ technology is that the time needed for practicing typing is decreased.
Well aware of how typing beginners might feel confused with the sheer amount of skills to master, the instructional video tutorials ensure that the learner feels confident every step along the training process. With this feature, unique to Ultimate Typing™ technology, users are able to go through all typing levels and activities without any worries about following through correctly. Instead, the interactive video instructions that accompany every exercise mean that the learner enjoys steady progress in typing improvement.
The video tutorials are carefully created to provide all information and guidance any user might need to perfectly master typing. When the user watches the tutorials and is then urged to apply that knowledge through engaging and expert-designed activities, the learning process is as efficient and effective as possible.
For more details on Ultimate Typing visit http://www.ultimatetyping.com/.
About Ultimate Typing™
Ultimate Typing™ software is designed specifically for the improvement of typing skills. Created by eReflect, a world leader in e-learning and self-development software, Ultimate Typing™ has been informed by the latest developments in the science of touch typing.
Since its creation in 2006 by Marc Slater, the company has already catered to over 112 countries all over the world, offering products with the latest cutting-edge technology, some of which are among the world's most recognized and awarded in the industry.