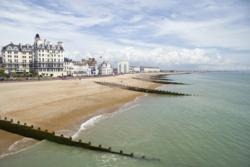 The planned improvements to the town centre could well attract an even higher number of company formations as the scheme gets underway
Eastbourne, Sussex (PRWEB UK) 2 February 2013
The latest Duport Business Confidence Report shows a rise in the number of company formations during the third quarter of last year in Eastbourne.
There were 161 company formations between July and September, which is a 6% rise on the same period in 2011.
However, the number of company closures also rose during this period, leading to an overall drop in net company growth.
The rise in company formation could be linked to plans to regenerate the town centre. Last year, a £70 million extension to the Arndale Centre was approved by councillors, who hope it will set off a ripple effect and kick-start further regeneration in the area.
The scheme is set to get underway in the next two years and could create as many as 650 new jobs.
Managing Director of Duport.co.uk, Peter Valaitis said:
"Eastbourne has a vibrant tourist economy, which makes it attractive to business startups. The planned improvements to the town centre could well attract an even higher number of company formations as the scheme gets underway."
The Duport Business Confidence Report for Eastbourne uses economic data to provide a snapshot of the local economy. More information and statistics can be found at http://www.duport.co.uk/eastbourne.
Duport Business Confidence Reports are generated and released by Duport Associates Ltd. The data contained in these reports is assimilated and analysed by Duport using public record data from sources including Companies House, Office for National Statistics and Ordnance Survey. Duport Associates Ltd is a leading UK company formation agent, established in 1997 and registering around 10,000 new companies each year through its Companies House approved software.