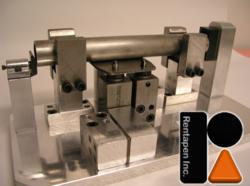 "Need one plate, that's ok with us," said Straley. "Whether it is one plate or a thousand plates; one shim or a thousand shims."
Waukesha, WI (PRWEB) February 25, 2013
On February 5, 2012, Rentapen added two new styles of locating plates to their line of weld fixture components. The tooling component 3D models are now available for Engineers and CAD Drafters to download from the weld tooling components web site.
"We are always assessing our customer's needs," said Susan Straley, President of Rentapen. "We learned they needed a locating plate that was narrow, like a finger, for situations when there isn't as much room to guide or hold their product parts in a weld jig or assembly fixture."
Rentapen currently has three different types of plates that a customer can select from. The RP00 is mostly used when a designer wants all parts to be mounted from above the base plate, making it easier to access fasteners to remove the fixture parts if needed. The RP02 and RP03 are guides and part positioners that are as wide as 4x the diameter of the faster. The new RAPid Plates™ that have been created are the RP04 and the RP05 which are only 2X the diameter of the fastener making them look and work more like a single finger.
Rentapen's RAPid Plate™ line contains guide plates that can be used as rough guides or as precision product part positioners. RAPid Plates™ are plates that help locate the product in a fixture. They can be used as stop plates, goal posts for round or square product parts, or rough locating guides. A rough locating guide will get the part close to where it needs to be in a fixture so another locating part such as a pin can be used to locate a hole in the product part. A rough locating devise can speed up the production process by guiding the product part into the fixture.
The new RAPid Plates™ RP04 and RP05 have been designed to be half the width of RP02 and RP03. These plates have also been modified so that the bolt holes are vertical on the plate instead of horizontal on the plate. The plates come in 4140PH steel or Ampco 18 Bronze.
"Our plates are a popular product among machine designers," said Straley. "We have seen phenomenal growth in the popularity of our tooling components last year."
At Rentapen, plates are made to order and there is no minimum order. Manufacturers can order only what they need when they need it.
"Need one plate, that's ok with us," said Straley. "Whether it is one plate or a thousand plates; one shim or a thousand shims."