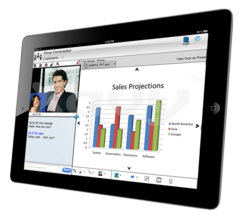 Xavy, a feature rich native client, is available for FREE in Apple iTunes Store and Google Play
(PRWEB) February 11, 2013
RICHARDSON, Texas – Feb 11, 2013 – Damaka®, a technology pioneer in Mobile Unified Communications and Collaboration (UCC), today announced the availability of Xavy product line for free, a unique software client that extends the Presence, IM, Audio, Video, and Collaboration capabilities of Microsoft OCS R2 and Lync to iOS and Android mobile devices without any additional hardware or software requirement.
Microsoft OCS R2, Lync 2010 / 2013 users can now leverage this unique total software solution to be fully connected while being mobile. Enterprises, which have deployed Microsoft OCS R2, Lync 2010, and Lync 2013, can leverage their existing hardware infrastructure.
Xavy is available in Apple iTunes Store and Google Play for free. Also available for free in the Xavy line of products are Xavy Attendee (for guest users), Xavy Cloud (for Office 365), and Xavy for Mac. Xavy for Ubuntu Linux will be available shortly.
The following wealth of features is available to Xavy users:
Server Setup & Authentication:
Automatic Configuration, Manual Configuration, Office365 Support, NTLM Authentication, TLS-DSK Authentication, WLID Authentication, MD5-Sess & SHA256-Sess, Anonymous Join to meetings
Contact Management:
Contact Card Display, Add/Delete Contacts, Group Management, Presence, Conatct Search, Distribution List, DND Handling, Call Forwarding, Delegates, Contact Relationship
Communication Features:
Instant Messaging, Audio Calls & PSTN, Video Calls, AV Conference(C3P), Feature Escalation & De-escalation, Voicemail & MWI, Participant Management, CAC & Media Bypass, Security: SRTP/SSRTP, RTA/RTV Codecs, Call Redirect & Transfer, Call Park & Pickup, Boss/Admin, Simultaneous Ringing
Collaboration Features:
Scheduled Meetings, Lobby Management, Program & Desktop Sharing(RDP), Whiteboards(PSOM), PPT Sharing, File Transfer & Sharing, Conference(C3P), Feature Escalation & De-escalation, Participant Management
Other Features:
Activity Logs, RTCP, Exchange Web Services Discovery, Auto Recovery on Network Failure, ICE v6 & v19, Federation, LIS, RGS, E911, QoS, Team Dial, DTMF, Session Recording Notification, Modalities Management
As part of its Enterprise Mobile Video and Mobile Collaboration strategy, Damaka continues to bring advanced communication and collaboration solutions that enable today's mobile workforce to be highly productive.
About damaka, Inc.
Damaka (http://www.damaka.com) is an innovator in mobile unified communication and collaboration (UCC) solutions. The company is changing the landscape of mobile UCC by providing secure, real-time mobile video calling and mobile collaboration solutions on all major smartphones, tablets and PC/Mac/Linux platforms, enabling collaboration on any device, any network, anytime and anywhere. Damaka's patented managed peer-to-peer SIP based software solutions feature Sweeping® technology, allowing users to seamlessly transfer in-progress collaboration sessions to and from various devices, including laptops, tablets and smartphones. Damaka was founded in 2004 and is headquartered in Richardson, Texas. For more information on Damaka's Xavy solution, please visit http://xavy.damaka.com.
Contact:
Mrinal Rao
(972) 850-3002
xavy.support@damaka.net