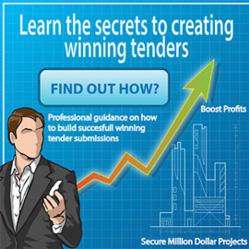 "Historically, businesses pay up to $30,000 for a professionally-written tender proposal, which is out of reach for most businesses, we'll show them how to achieve the same thing for a fraction of the cost."
Brisbane, Queensland (PRWEB) February 18, 2013
Australian-based project management consulting firm Striking Project Management (part of the Striking Group) has announced they will be running an advanced workshop series on winning tenders. The workshop, titled the "Advanced Winning Tenders Worksop Series", is targeted at small to medium-sized businesses, aiming to help them secure lucrative tenders by lifting the lid on what goes on in the tender consideration process.
Chris O'Halloran, Director of Striking Group, said:
"We're finding more and more SMEs are getting opportunities to land a juicy tender. They just don't know how to go about putting the proposal together to actually win it. This workshop series aims to fix that by teaching them everything they need to know to secure tenders that could radically change the scope of their business."
The series is being offered in three tiers. The basic package starts at just $197 and, as well as the weekly remote workshopping session, grants full access to the workshop's online repository of videos and documents. The "Silver Circle" package consists of the same features as the basic package, but includes access to the Silver Circle Forum, where O'Halloran personally answers members' questions. Finally the "Platinum Access Package" contains the same features of the other two packages but also includes an hour long private consultation with O'Halloran each week.
O'Halloran's experience with project management spans his entire career and has seen him involved with more than AU$100 Million worth of projects from both the client and supplier point of view. He has managed projects at all levels of industry including residential, commercial and infrastructure construction, integral business IT and communications systems, and business improvements. As a project management consultant, O'Halloran has helped dozens of organisations improve their chances of landing lucrative tenders.
"Historically, businesses pay up to $30,000 for a professionally-written tender proposal, which is out of reach for most businesses," said O'Halloran. "Here we'll show them how to achieve the same thing for a fraction of the cost. Our experience in the field of managing client side projects means we're able to give them valuable insider knowledge and share these secrets from inside the tender room."
The workshop will focus on all aspects of the tender process, from targeting, to strategy, to drafting and submitting a tender for a major contract. Striking Project Management has gained these insights through being involved in major tenders from both sides of the fence. "We know about this stuff because the project manager is often the one that drafts the tender documents and manages the process, including taking a lead role in the tender evaluation," said O'Halloran. "Now we're sharing this knowledge with smaller sized businesses so they can compete with the big boys."
For more information about the Advanced Winning Tenders Worskhop Series and a free introductory video, visit: http://strikingprojectmanagement.com/products/advanced-winning-tenders-workshop-series/