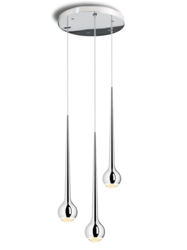 Falling Water 3 pendant by Tobias Grau
Tarpon Springs, FL (PRWEB) February 01, 2013
Tobias Grau has emerged as a forerunner in the contemporary and sophisticated lighting industry. It is a German company that has laid its hands on the global customer base. Since its commencement in 1984, it has been delivering metal and glass lighting fixtures for both official and household use. Recently, the company has launched its new Falling Star and Falling Leaf Pendant collections which have been inspired from nature. Another latest project called My Large Table lamp also offers sleek and elegant fixtures with exceptional benefits. The collection of modern light fixtures under all these categories is extensive. All the bulbs and lights used in the company's projects are always energy efficient in behavior.
Major product building at Tobias Grau calls for the use of abundant metal in amalgamation with glass or porcelain. Usually inspired from the natural world, these collections inherit beautiful names which totally complement their features.
The latest "Falling Star" collection is a sign of vibrant and colorful usage of light in home décor and designing. This collection includes a diverse range of suspension lamps, wall or ceiling lights, table lamps, floor lamps, and chandeliers. Focusing on a lively approach towards the light, these lamps have been furnished with radiant LEDs. Therefore, the light from these LEDs gets deglazed and concentrated on optical lenses. The whole lot of these luminaries has been equipped with exceptional and unique dimmer switches and a wall rotary dimmer that operates at 230 volts. This facility makes the lights dimmable in features. This unusual blend of creativity and technology yields remarkable and reliable results.
Another brilliant product of this first rate brand is the Falling Leaf Pendant light. Crafted and manufactured by Tobias Grau, this suspension lamp is notable on account of its admirable features and high performance. The structure has been integrated with an exclusive fusion of polished matt and aluminum. The high quality colorful plastic also adds to the décor of the space where it is installed. The Falling Leaf pendant Light has been inculcated with a luminous and warm white LED that ideally distributes the light all over the space.
An additional creation of this international Brand is its new My Large Table Lamp collection. This shaded lamp assemblage has been crafted with careful detailing with respect to the modern demands. Blended with a sophisticated composition of polished aluminum, bone china, and smoked oak, the MY collection goes far beyond the ordinary. The warm-white LED light produces abundance of downward shining light and the bone china shade aids in radiating a warm glow. The MY range takes in two table lamps with different heights and a suspension lamp which offers height adjustment.
Mark Jacob of California communicated his experience with the Tobias Grau collection, "I wanted something elegant, stylish and productive for the lighting in my dream house. When I came across the Falling Star and the Falling Leaf collection, I was confused about which one to buy. These vast collections offered everything I desired, rather more than that. There is a whole heap of incredibly designer lighting fittings and other products which is beautiful and beneficial at the same time. All of them are perfect for everyday use. Choosing a few out of them was really a tough call."