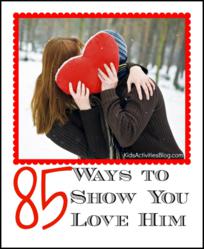 Play footsie under the dinner table and get romantic on Valentines Day.
Dallas, Texas (PRWEB) February 03, 2013
It is important to raise the kids in a household that is full of love. Kids Activities Blog features 85+ ways to show love to the man in your life, the father of your kids, and a laundry list of simple ideas that turn Valentines Day into a fun family day.
Ways to show love to him include a date night at home after the kids are in bed, giving him a hot towel after a shower, playing footsie under the dinner table, putting on lipstick before he gets home from work, sincerely thanking him for all the things he has done for the family, and bringing a plate of homemade cookies to him at work. The list is endless.
Another great way that turns Valentines Day into a special one this year, is by going on a family date night or by having a special family picnic. Teaching the kids to be thankful, to be thoughtful and to be close to each other are some of the important lessons they can learn. Also, take time with each other to cuddle on the couch, share a love story, or two, and being the first one to apologize on the day filled with love.
For instructions and additional ideas, check out Kids Activities Blog during the month of February. Come get the kids inspired this Valentines to celebrate with the whole family.
About Kids Activities Blog
Kids Activities Blog is a website created by two moms (who collectively have 9 children), Rachel Miller and Holly Homer from June Cleaver Nirvana. It is their daily goal to inspire parents and teachers to play with kids. This interactive website publishes simple things to do with kids twice a day. Kids Activities Blog is a great tool for moms and teachers to find kid-friendly activities that create memories and sneak learning into the fun.