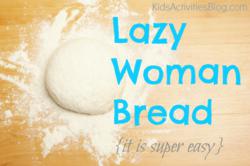 Make dinner special tonight with homemade "lazy woman bread."
Dallas, Texas (PRWEB) February 05, 2013
The ultimate easy bread recipe and other simple baking tips are published on Kids Activities Blog this week.
Homemade "lazy woman bread" is easy to make and a time saver because once mixed together the dough will last for over a week. For those who like freshly baked bread daily but do not have the time or energy to mix, rise, and punch every day the "lazy woman bread" is the perfect choice.
Before mixing the ingredients, get a 10qt/2.5 gal food container that will store the dough. Ingredients needed include water, oil, olive oil, sugar, yeast, powdered milk, white flour, salt, and any fun grains such as potato flakes, flaxseeds, oatmeal, red wheat, or graham.
Mix ingredients according to the recipe provided on Kids Activities Blog and store inside the food container for up to one week. Take out the needed dough on a daily basis.
The bread matches well with the "What is for dinner" family recipes also published on Kids Activities Blog. These resourceful dinner ideas can be adjusted to anyone's refrigerator or pantry.
The easy casserole family dinner idea will turn into everyone's favorite meal. There is a basic set of ingredients that includes milk, water, oil, salt, and pepper or spices to taste, and an additional set of ingredients that can be chosen according to ones availability in the refrigerator or pantry. These additional ingredients are divided into any available sauce, any available vegetable, any protein, and any starch that is currently available in the refrigerator or pantry.
Choose the ingredients based on the guide and mix them according to the instructions provided on Kids Activities Blog. This recipe and a laundry list of resourceful baking ideas will make any dinner tonight a bit more fun.
About Kids Activities Blog
Kids Activities Blog is a website created by two moms (who collectively have 9 children), Rachel Miller and Holly Homer from June Cleaver Nirvana. It is their daily goal to inspire parents and teachers to play with kids. This interactive website publishes simple things to do with kids twice a day. Kids Activities Blog is a great tool for moms and teachers to find kid-friendly activities that create memories and sneak learning into the fun.