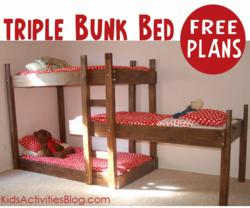 Create more space in the kids bedrooms by building a Triple Bunk Bed this weekend.
Dallas, Texas (PRWEB) February 06, 2013
If space is at a premium at home, Kids Activities Blog may have the perfect solution to build a bed for any family with multiple kids. The triple bunk bed idea looks cute, is easy to do, and most of all a budget friendly solution to the dilemma of space in the kids bedroom.
Materials needed for the triple bunk bed can be purchased at any home builder store. They include 18 carriage bolts and nuts, 2X6 boards, 2X4 boards, and 2X3 boards, 3 sheets of plywood, a box of 3" wood screws, gel stain, and rub-on polyurethane.
To make the building a bit easier, Kids Activities Blog published some tips. They include letting the hardware store, such as Lowes, cut the board according to the specifications and help them load into the car. Another great tip suggests to borrow the needed tools such as a table saw, router, drill and power sander. Another alternative is to rent the tools instead of buying them.
Building the bed can be completed within a weekend. Once completed, the kids as well as parents will love the bigger floor space in what was once a crowded room.
For the complete set of instructions and the Triple Bunk Bed plans, check out Kids Activities Blog this month.
About Kids Activities Blog
Kids Activities Blog is a website created by two moms (who collectively have 9 children), Rachel Miller and Holly Homer from June Cleaver Nirvana. It is their daily goal to inspire parents and teachers to play with kids. This interactive website publishes simple things to do with kids twice a day. Kids Activities Blog is a great tool for moms and teachers to find kid-friendly activities that create memories and sneak learning into the fun.