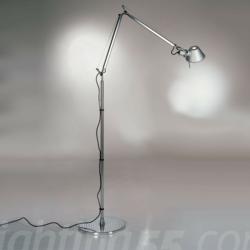 Tolomeo Classic floor lamp by Artemide
Tarpon Springs, FL (PRWEB) February 05, 2013
One of the biggest stores for lighting equipment, Lighting55 has now started supplying the Tolomeo collection. The Tolomeo table lamp has been a symbol of Italian contemporary design. It was initially designed in 1986 for the Artemide Company by Michele De Lucchi and Giancarlo Fassina. Later in 1989, it won the excellent Compasso d'Oro design prize. The Tolomeo mega floor lamp has been a best seller till date.
Artemide is an Italian based manufacturer of Contemporary and Modern lighting fixtures. With its headquarters in Pregnana Milanese, the company has always had an active presence in the international market across the globe. Many of its collections have been acknowledged as the industry's best looking fixtures. The company has also won many awards for its designs since 1959. Its international design products like Eclipse, Ptolemy, and Pipe have been rewarded with the Premio Compasso d'Oro. The Tolomeo series is also one of these outstanding assemblages.
The Tolomeo collection has always offered the most elegant, reliable, and efficient lighting fittings and fixtures. This extensive collection includes wall sconces, classic floor lamps, table lamps, clip spots, and others. All these products come in a wide variety of styles, structures, features, and designs. Some of them are LED powered that provides abundance of light. With multiple features, the series is fit for both household and official use.
Another exclusive product of the Artemide's Tolomeo series is the Tolomeo Mega Floor lamp. It is a floor standing illuminator which can be easily installed at any workspace. The piece is perfect for all kinds of lighting. It offers adjustable direct and indirect, diffused, incandescent, and halogen lighting. Also, the lamp operates in the optimum voltage range of 220 V- 240 V. The kind of diffuser can also be selected according to the needs, as options vary from parchment to fibre. The lamp structure is fully adjustable in nature. It has been built with extruded aluminium and finished with black matt finish and polished anodized aluminium. Tension control knobs made of polished die-cast aluminium and tension cables made by stainless steel have been installed throughout the structure. This ensures durability and reliability of the flexible structure assembly.
Michael Boltzmann expressed his views on buying the Tolomeo lighting fixtures, "I was looking for lighting equipment for my new business project. Since it was a grand one, I was not willing to take any chances. When I asked around for suggestions, many recommended Tolomeo. And truly, buying Tolomeo fixtures was like bringing home the legend. They are simply flawless- elegant, well-designed, styled, and efficient. I am in the awe of this legendary brand. Everyone should consider Tolomeo while making a lighting choice."
# # #