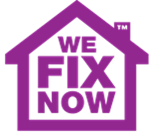 it is important to make sure you have working fire alarms fitted on every floor
(PRWEB UK) 1 February 2013
It has been reported that the fault of the blaze lay at the hands of a faulty dishwasher which was discovered by a man in his home shortly after 4 a.m. when fire fighters were called to the incident. By getting himself and his family out of the house immediately, closing the doors and alerting the fire brigade, the homeowner was able to prevent the situation from getting worse. Another fire started by a faulty dishwasher was also reported on the same day in the same area.
Repairing, restoring and testing a variety of kitchen appliances, the team at We Fix Now were quick to respond to this news. Explaining the dangers of faulty electrical appliances, a representative from the firm has shared their advice on action that can be taken to make the home safer.
"Incidents like this show that fires caused by electrical equipment such as dishwashers can break out at any time, with very little warning. In order to protect yourself from this danger, it is important to make sure you have working fire alarms fitted on every floor.
It is also important to make sure you never leave these running whilst you are out or asleep. Remember also to get all household appliances serviced and checked at least once a year. At We Fix Now we provide fully registered engineers and emergency plumbers in London around the clock."
We Fix Now is a London-based company providing emergency plumbers and electricians throughout the M25 and surrounding counties. Renowned for their fast and effective service, the firm also specialise in unblocking drains, fixing central heating and boilers and sorting problems with gas. With a strong focus on customer service, We Fix Now prides itself on providing fully qualified and experienced engineers day and night, every day of the year.