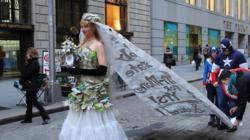 New York, New York (PRWEB) February 04, 2013
Monday, January 21, 2013 was the third anniversary of the Supreme Court's favorable ruling for Citizens United against the Federal Election Commission (Citizens United v FEC, Supreme Court case number 08-205). The Court's decision has, according to Dennis Trainor, Jr, "opened the floodgates for unprecedented amounts of money into our political process. The Citizens United ruling has become a symbol for what the Supreme Court has been doing for about 100 years, slowly empowering corporations until they have now been granted personhood status and putting how money is spent in elections on par with free speech."
The video of the highly theatrical street protest was captured by Dennis Trainor, Jr.'s Acronym TV.
About Acronym TV:
Opinionated, aggressive, and often funny, Acronym TV shines a seriously unserious, reverentially irreverent light on issues that are often ignored by the corporate media; issues of interest to the progressively minded citizen of the world.
Acronym TV, because you stand for something.
About Dennis Trainor, Jr
Dennis is the writer & director of the American Autumn: an Occudoc, which opened to critical acclaim in June 2012. In addition to Acronym TV, Dennis has created promotional short videos for the October 2011 Coalition , Occupy Wall Street, Don't Suppress OWS, & CWA.