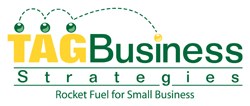 Orlando, Florida (PRWEB) February 15, 2013
Most significant change in the history of dental marketing? Forbes reports 4 in 10 Americans use Local Search every single day. Local Search for dental practice or any other business did not exist just a few years ago. Decisions business owners make today will shape the next 30 years of new revenues.
TAG Business Strategies, a proven national leader in the local Internet marketing industry, has today announced a seismic shift in dental SEO marketing. Capitalizing on this change, TAG provides their clients with the ability to blow past the competition.
Dentists across the US are now beginning to realize that the changes taking place in attracting new patients could be the most substantial transformation in dentistry since the addition of water to the drill. Just a few years ago, having a dental website was considered a cool, hip thing to do, but was not deemed as essential to a practice as the dentist's hand tools and mirror. The end of a monopoly has now presented a historic opportunity for dentists to promote their practice and the benefits to almost every new prospective patient in a 30-mile radius.
"I have spoken with hundreds of dentists across the country and I am amazed that while most of them tell me they believe the Yellow Pages are no longer cost-effective and have pulled ads from the famous yellow book, their thought process stops right there," said Bill Konstand, CEO and founder of TAG Business Strategies. "For some reason, many have not taken their assumptions to the next step, which would be finding out where prospective patients are locating the information they used to get in the Yellow Pages and getting in on the action."
As recently as 2004 and for the decades prior, the Yellow Pages was considered by many as the only real on-demand information source for dentists available. While it's true that dentists often sent out a barrage of postcards into a neighborhood and hoped consumers would remember it when they felt a twinge of oral pain, when those same consumers needed a dentist, most would still open the Yellow Pages in their local market and turn the letter "D".
Now that AT&T has liquidated its majority stake in the Yellow Pages (WashPost 4/9/10), and the CEO of Yellow Book stated that, "Larger coastal cities will stop printing Yellow Pages very soon," (BIAKelsey 3/3/10) dentists must move online and fast. Some areas have now even banned the Yellow Pages without written requests from consumers. Dentists must make the shift to this new digital world including social, local and mobile marketing as soon as possible if they expect to survive.
"TAG can take a dentist who has only been in practice for two or three years, and still deliver them a majority of new patients from their area while another who has been practicing for 20 years with a stellar reputation, might be getting almost no new patients online because he does not have an adequate online profile for consumers to research. This is life or death in the next decades for all dental practices period.
'Find me a dentist in my city' or 'dental reviews in my city' would be examples of keywords searched on Google that prospective patients across the country might use when they are looking for a new dentist but do not have a specific one in mind. I cannot tell you how many times a dentist or practice administrator has stated to me that since their dental website comes up when the dentist's name is entered, it means that they are on Google and getting new patients there," Mr. Konstand remarked in a recent interview. "Someone who knows the dentist by name is already looking for that dentist, not just looking for a choice of dentists".
TAG specializes in getting dental practices in front of prospective patients that are looking for choices when researching a new dentist. "Dentists seem to understand that you can get more patients online but few realize that over 50% of the U.S. population is now carrying a smartphone which quickly becomes that person's exclusive source of finding local business and professionals," said Bill Konstand. "Also, since 50% of all U.S. adults use social media and review sites regularly, protecting your reputation and promoting a dental practice there is essential to reach adults under 35".
Today, with most consumers looking online before selecting any local professional, a website is an essential tool, but so are the various other entry points and profiles for a dental practice where patients might be looking, like social media sites, review sites, and local and map listings like Google + Local (formerly Google Places) and Yahoo Local.
The mobile Internet "revolution" combined with the regular use of social media in discussing local business experiences is the most significant change in the history of dental practice for profit, period. No other change throughout history even comes close.
TAG is using the substantial shift of the Internet from a national search tool to a local search tool to rank clients to three or even four places on page one of search, resulting in an explosion of new patient revenues and inquiries. TAG also uses the logarithmic growth of social media to bring in new patients at a blinding pace.
For more information about the dental SEO and the new paradigm in online marketing, visit http://www.TAGBusinessStrategies.com.
About TAG Business Strategies: TAG Business Strategies is a leader in online marketing serving Dentists since 1999. TAG is a BBB rated A+ company and a certified partner of major search engines and PPC engines. With innovative marketing techniques and a true sense of the evolution of marketing, TAG keeps clients a step ahead of the competition. In addition to hundreds of small businesses and medical practices across the USA TAG Business Strategies also boasts fortune 500 clients like Pulte Homes USA.