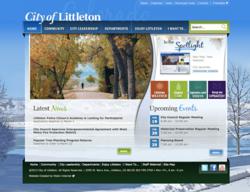 The new website is organized the way visitors like to find information. The response from the public has been 100 percent positive.
Littleton, CO (PRWEB) February 20, 2013
The city has kicked off the New Year with the debut of its redesigned website, that can be accessed at http://littletongov.org. From a modernization of the design and layout to a drastic upgrade in maintenance technology, the new website has undergone a complete transformation.
"We couldn't be happier with our new website," said Littleton Communications Director Kelli Narde. "Our original site was built from scratch and contained more than 1,800 pages, but it wasn't the easiest site to navigate. The new website is organized the way visitors like to find information. The response from the public has been 100 percent positive."
Visitors will enjoy many new features and find a simpler, more intuitive navigation that will greatly improve the user's experience. Some features of the new City website include:

I Want To... — a convenient, all-in-one page with links to the most-requested pages on the site.
Mobile compatibility — standard web pages are dynamically converted for viewing on all major smartphones including iPhone, Blackberry, Android, and Windows Mobile.
Breadcrumbs — this convenient navigation feature shows the visitor's current path on the top of each page to let them know exactly where they are on the web site.
Littleton eConnect — Keep Me Updated! Website visitors can sign up to receive city email notices, setting their own preferences for the kind of notices they're interested in.
Events calendars — a comprehensive, city-wide calendar of city meetings and events, as well as calendars specific to individual departments such as Bemis Library and the Littleton Museum.
Bookmark and Share — a popular feature that allows visitors to easily share website content with their favorite social networking sites such as Facebook and Twitter.
Feedback form — allows visitors to submit comments or questions from any page.
And much more, including a rotating home page photo gallery, current weather conditions at the Littleton Center, an integrated Google translation link, printer-friendly pages, and a home-page emergency alert feature.
The new website was created in partnership with Vision Internet, a longstanding leader in government website development. Their award-winning government content management system – the visionCMS™ – powers the new City website. Multiple staff members with all levels of IT experience are now able to update and maintain the website with this easy-to-use CMS.
"Our experience with Vision Internet was great. The staff was patient, responsive, and really helpful," Narde said. "They did a terrific job creating a graphic design that really represents Littleton."
Through the years, a number of other Colorado communities have worked with Vision Internet to transform their outdated sites into successful, engaging government websites. Some of these communities include the Towns of Breckenridge, Silverthorne, and the City of Loveland.
To learn more about the eGov technology that helped to transform the City of Littleton website, please visit http://www.visioninternet.com/inforequest.
About Vision Internet:
Vision Internet is the national leader in government website development with nearly 500 government, non-profit, and education clients across the US and Canada. Over the past 17 years, Vision Internet has been creating industry-defining websites for communities ranging in populations of less than 1,000 residents to more than 5 million. Widely recognized as the government website experts, the company has earned hundreds of prestigious industry awards for its unique websites.