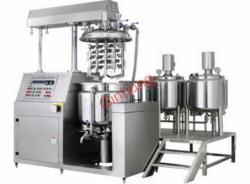 Jinhu, Jiangsu Province (PRWEB) February 20, 2013
The RX homogenizing machine is a specialized mixer which is composed of a high shear homogenizer and a high speed disperser. Customers can purchase both units together or each separately depending on the type of ingredients being mixed and the process needed to manufacture the product.
Ginhong continues to provide industries with top of the line homogenizing machines. Engineers design, develop and manufacture the mixers in their own plant and provide them to customers in various industries around the world. The machines are used for a wide variety of purposes and can manufacture different types of mixtures for industry uses.
Ginhong manufacture the RX so that the entire process of homogenizing can be completed in the one unit. It is generally used to produce various types of large batches of creams or lotions which require large quantities of powder substances. Ginhong engineers design their products to be suitable to work in various industries by performing specific functions that are necessary to make products.
The full line of homogenizing mixers that are manufactured by Ginhong can be viewed at their site at http://www.ginhong.com/. The company proudly displays their top quality machinery for customers to see and they may also view them at the facility where they can see a demonstration of how the homogenizer mixer works.
About Ginhong
Chinese based Ginhong was located to Jinhu, Jiangsu Province. The company quickly outgrew their facility and moved into larger facilities to house their operation. Ginhong has its own team of expert engineers who work together to design, engineer and manufacture various types of mixers which are used to make ingredients used in products in several different industries. They supply their mixer machines to companies both on the domestic and international levels.