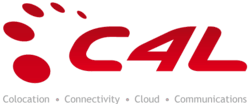 (PRWEB UK) 19 February 2013
C4L, a UK leading colocation provider today announced their recent data centre footprint expansion, providing customers with increased choice when choosing a data centre location. C4L can now provide businesses with access to 100 UK colocation facilities and over 300 globally.
C4L have reacted to increasing customer demand for global data centre locations by dramatically expanding their portfolio. At each of the data centres C4L can offer a range of colocation options including; cages, suites, full, half and quarter racks, as well as connectivity and cloud solutions.
Simon Mewett, CEO at C4L comments "We're always striving to stay at the forefront of our industry, and being able to offer our customers unlimited choice is imperative to C4L. By having access to over 300 data centres globally we can be completely flexible around the needs of our customers. At each of the data centres we offer complimentary solutions which enable us to cater for every IT infrastructure requirement." He continues "Over the course of the year we will be expanding our network reach even further."
C4L is exhibiting at Data Centre World and will be at stand D45. The show is held on 27th-28th February at London's Excel, located in Royal Victoria Dock. C4L are providing visitors with the opportunity to pre-book appointments at the show to discuss their recent data centre footprint expansion, as well as their existing service portfolio.
Simon continues "We're looking forward to exhibiting at Data Centre World, this will be our fourth year running. At the show we will be showcasing our portfolio of services, as well as the announcement of our recent data centre footprint expansion."
About C4L:
C4L is an internet infrastructure solutions provider and deploys a full range of services in over 300 data centres globally, including colocation, connectivity, cloud and communications. These are all provided with C4L's commitment to maximum uptime and customer support; featuring a 24/7 network operations centre (NOC) which is manned by trained professionals with Microsoft and Cisco qualifications.
C4L's industry leading data centre connected network, includes sites such as Bournemouth, Slough, BlueSquare Maidenhead, BlueSquare Milton Keynes, Telehouse Metro, Telehouse North, City Lifeline and InterXion. The company is now in its 13th trading year and its client base includes Government, FTSE 250, financial institutions and many of the UK's network carriers. The business is committed to customer satisfaction and quality of service and has achieved certifications such as ISO9001 & 27001.
For more information visit http://www.C4L.co.uk/pr, alternatively call +44 (0)8000 098 764