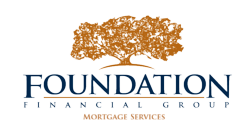 We can do things to get better and move forward. We're not where we want to be yet. Where we are is amazing, but where we're going is exciting.
Jacksonville, Florida (PRWEB) February 13, 2013
Foundation Financial Group has set another record year for its Mortgage Division in 2012. In the last year, FFG has experienced a surge in new customers because of their efficient customer-oriented strategy that sets the corporation apart from its competitors.
The corporation experienced a 39.96% increase in unit volume, based upon the same period last year. The company normally tracks around 14.5 percent growth from year to year. Foundation Financial Group correlates its success to the company's excellent customer service and a hard work ethic. On average, loans are closed in 15 days. This is phenomenal compared to the industry average of 45 days.
CEO Mark Boyer is pleased with the success that FFG has been experiencing. "What makes FFG successful is the quality of the employees and their training. There's a large focus on training and development. The longer you're here, the better you get and there's an overall focus on increasing total volume," he said.
"I am pleased with the success that FFG has had but it is by no means a stopping point," he said. "We can do things to get better and move forward. We're not where we want to be yet. Where we are is amazing, but where we're going is exciting. I'm pleased to work with the people that I do. The company as a whole is absolutely amazing."
Foundation Financial's growth will continue into 2013 through the expansion of the company's Mortgage, Insurance, Tax, and Marketing Divisions.
About Foundation Financial Group
Foundation Financial Group is a multibillion dollar financial services corporation. FFG offers its customers Best in Class service through its Insurance, Retirement, Mortgage, and Tax Services. Named one of the fastest growing financial companies in the country by INC magazine, FFG has continued to grow its nationwide presence with over 100,000 new customers per year in 39 states. In addition to the value that Foundation Financial provides every customer, it is also dedicated to its communities and the people who live in them. Through a vast array of philanthropic endeavors the company not only provides significant monetary donations but also fosters a workforce environment that encourages all team members to personally make a difference. Foundation Financial is committed to its strong focus on customer service and community investment as it continues to grow and compete with the largest financial institutions in the world.
Foundation Financial Group reviews all public relations inquiries. For additional information, interview and image requests, contact the Foundation Financial Group Public Relations team.