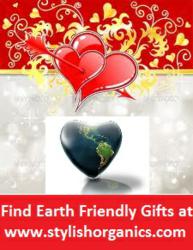 As the second most popular day for sending greeting cards the amount of paper utilized for a one day greeting is astronomical.
Stanton, New Jersey (PRWEB) February 01, 2013
This Valentine's Day those looking to show their love for Mother Earth as well as for their Sweetheart need not stress over finding tokens of affection while remaining earth friendly. Stylishorganics.com, an on-line boutique for organic and eco-friendly products, has published their list of 'green' Valentine's Day gifts.
Deemed a day of romance, the root of Valentine's Day dates back to ancient times when people honored the Roman God of Fertility. A celebration of love, it has become common place to exchange small gifts on February 14th. As the day quickly approaches, admirers and lovers alike are searching for that perfect card, candy, flowers or some other token to be shared with the object of their affection. With almost 150 million paper Valentine's Day cards and about $397 million in cut flowers exchanged every year this presents some raised eyebrows for those who are earth friendly.
"As the second most popular day for sending greeting cards the amount of paper utilized for a one day greeting is astronomical", said Lynn Lavanga Owner of Stylish Organics LLC, "If those cards were actually made from recycled paper, sustainable fiber such as hemp, or seeded paper that could be planted afterwards, it would minimize negative environmental impact." Other earth friendly products include natural skin care products - as they eliminate any of 95 possible contaminants from being absorbed through the skin or entering the waterways in their production; organic cotton and sustainable fiber clothing or bedding - as the resources used to produce these require no toxic chemical fertilizers or pesticides to grow; and stainless steel water bottles - as they cut down on the 83% of non- biodegradable plastic bottles ending life in a landfill.
So what's on the 'green' list? Lots of cool eco-friendly trinkets, sexy lingerie made from soft bamboo, gorgeous recycled glass jewelry, and beautiful plant-able flower boxes and cards are at the top of the list. Additional items such as organic personal care items, clothes from sustainable fibers and even natural products for your love-able pet are also named. Check out their list for more eco gift suggestions and subscribe to their Mailing List for news of specials and discounts.
About Stylish Organics
Stylish Organics is an e-commerce boutique offering a collection of products selected for earth friendly properties from environmentally responsible manufacturers. The company's easy to shop, one-stop-shopping, venue enables those committed to green living to combine savvy styling with earth friendly thinking. Many of their products are made in the USA or are ethically sourced from organizations that globally support women. The boutique is based in Stanton, New Jersey and is available to consumers on-line with shipping provided to locations in the United States and Canada. They can be reached via their website, email - contactus@stylishorganics.com or by calling 800.581.6417.