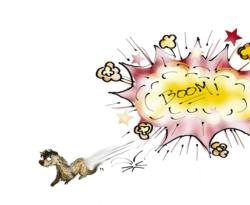 He jumped on the slide getting ready to make it taller than the sun when all of a sudden the
slide came undone.
(PRWEB) February 27, 2013
Parents, grandparents, how many times have you told a child to 'stop', 'listen' or 'don't do that'? Sounding like a broken record saying the same things over and over and over? Life might just get a little bit easier with the release of "The Misadventures of Fink the Mink", a children's picture book with morals!
The Misadventures of Fink the Mink is a new children's story picture book series that is written to teach children better playground etiquette and social skills. The series starts with the first book titled "Playground Troubles" featuring a mischievous Mink named Fink that takes children on a journey through the school playground as he gets himself into messes that every child should avoid. Fink is the bad boy that everyone loves to hate and he makes for a great example of what NOT to be like. This series is:

For Children Ages 4 to 8
Fully Illustrated - DOUBLE the number of illustrations of other books like it!
Full of Fun Rhymes
Has a Moral at the End to Make Parenting Easier
This children's picture book was written and created by David Zielinski. It is full of Curious George-type mischief and Dr. Seuss-style rhymes that will keep your child's eyebrows raised while entertaining them. They will be asking for more!
The illustration work was done by Kezzie Crossley, who is a Canadian children's book illustrator and artist. Kezzia loves to create characters and spends endless hours drawing and creating characters that children and parents will adore.
The editing was completed by Miss Ballou, who is a middle school Language Arts and Social Studies teacher in Broward County, Florida. She is passionate about getting teens hooked on reading. Miss Ballou has a knack for helping kids find the books they won't be able to put down. The proof is in her students, their improved reading scores, and the parents who are amazed their children are now reading 'because they want to".
The Miss Adventures of Fink the Mink: Playground Troubles is now available:
In print directly from Amazon
Instantly Downloadable for the Amazon Kindle
Free-to-Borrow for a Limited Time on the Amazon Kindle
This book is a good addition to:
Book Clubs
Libraries
Class Rooms
Any Child's Book Collection!
Finally be on the lookout for the next two books in the series:
The Big Scare at the Fair
Bully Beat Down
The Big Scare at The Fair addresses most parents' worst nightmare. What should your child do if they get lost! It is a lesson on the importance of staying close with your family, friends, teachers and/or people who take you out. No child should go out to any public place unless they have already learned the lessons needed to deal with getting lost!
Bully Beat Down confronts the all too prevalent issue of bullying in our society and teaches kids some of the most effective ways to deal with bullies. It contains easy-to-remember tips on how to prevent being bullied in the first place, and what to do should bullying occurs. This book will give your child the confidence and information needed to handle any bullying situation!
The Fink The Mink Series of books is written to teach children life lessons in a fun way that is full of adventure and rhymes, but most importantly an unforgettable lesson that is valuable in deed!