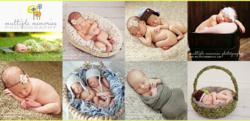 Scottsdale, AZ (PRWEB) February 11, 2013
The new iPhone's cool camera features definitely have everyone feeling like they are the next great photographer. However, when it comes to capturing those first, treasured pictures of a newborn, the only thing that an iPhone should be doing is calling the top studio in the Scottsdale baby photography market, Multiple Memories Photography.
Multiple Memories Photography, an experienced infant, toddler, and family photography studio, is excited to announce that they are now specializing in newborn photography; birth - two weeks. With an impressive portfolio of ideas and a wealth of unique, hand-crafted props for boys, girls, and multiples, clients couldn't ask for a better first photo shoot experience. The founder, Margie Mobley, is overjoyed with the company's success. The mother of triplets (and self-proclaimed baby photography addict) explains, "It's always such an honor to know that people trust me to capture these once-in-a-lifetime newborn portraits of their precious new baby." For more information on how Multiple Memories Photography can meet any newborn photography needs, visit their website today at http://multiplememories.com, or call 602-677-6402.
About Multiple Memories Photography:
Multiple Memories Photography of Scottsdale, AZ, provides professional photographic and portrait services for parents. Clients will benefit from our years of experience in providing parents and newborns with just the right baby photographs that will bring warm memories to photo albums for years to come. We have a large portfolio of gorgeous, modern newborn photographs to review and find the pose that is just right for each client. Call our Scottsdale Photography Studio today at 602-677-6402.