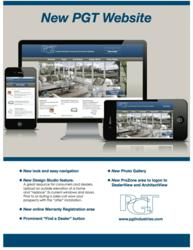 As the market for aluminum windows and doors increases quickly nationwide to coincide with the national real state market, the timing of this launch could not be better
Venice, Fla. (PRWEB) February 07, 2013
PGT Industries (NASDAQ: PGTI), the nation's leading supplier of residential impact-resistant windows and doors, unveiled a new state-of–the-art website as part of a major launch to support its distributors and consumers. The website, http://www.pgtindustries.com, features new innovative and interactive features for consumers and includes a password protected section for distributors.
"As the market for windows and doors increases along with the national real estate market, the timing of this launch could not be better," said Rod Hershberger, president and CEO of the leading Florida-based window and door manufacturer. "This website will give consumers and distributors great access to all of our products in a tech savvy manner, which we know will increase customer satisfaction on all levels," said Hershberger.
Consumers surfing the site can use the interactive design studio to upload photos of their home and see what it would look like with different PGT window styles, and can also locate a local PGT distributor quickly. Distributors can login to download promotional material, place and check on orders, review the educational calendar, and more. "This site will streamline the entire process, ensuring easier access to design features and offering a huge variety of services to our customers," said Hershberger.
In addition, the website is compatible with mobile devices and tablets and will include an extensive photo gallery and a complete visual product guide. It was developed using the open source Drupal platform, which has been used for other major websites including whitehouse.gov.
PGT® pioneered the U.S. impact-resistant window and door industry and today is the nation's leading manufacturer and supplier of residential impact-resistant windows and doors. Founded in 1980, the company employs approximately 1,000 at its manufacturing, glass laminating and tempering plants in North Venice, Florida. Utilizing the latest designs and technology, PGT products are ideal for new construction and replacement projects serving the residential, commercial, high-rise and institutional markets. PGT's product line includes PGT® Aluminum and Vinyl Windows and Doors; PGT WinGuard® and PGT PremierVue® Impact-Resistant Windows and Doors; PGT® Architectural Systems; and PGT Eze-Breeze® Sliding Panels. PGT Industries is a wholly owned subsidiary of PGT, Inc. (NASDAQ: PGTI). For additional information visit pgtindustries.com.
###