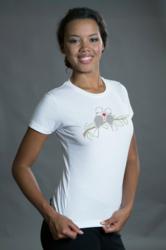 For even more impact, write a card that explains which shirt you thought the recipient might like...you'll melt someone's heart.
Santa Cruz, CA (PRWEB) February 01, 2013
Love nerds who left Valentine's Day until the last minute can now save the day with a gift certificate from Tees For Your Head. And any of these geeky t-shirts could be worn as a nightshirt to keep the smooshiness private.
"I would suggest six of our designs that are great for a sentimental occasion, like Valentine's Day or an anniversary," says Karin Carter, co-owner of the company. "For even more impact, write a card that explains which shirt you thought the recipient might like, and why you wanted to give him or her the chance to choose. You'll melt someone's heart."
A new addition to the Tees For Your Head line is the Love Nerds t-shirt. It features two little love nerds, sitting in a tree, k-i-s-s-i-n-g, as the children's rhyme says. Shy geeks can announce their feelings without saying a word. For recipients who don't wish to wear hearts on their clothing, it can be worn as a night shirt, which is all the better for a romantic topic.
For a mischievous take on the holiday that's all about celebrating romantic love, the Feel the Love t-shirt might be just what's required. Carter's interest in languages of all kinds led to the t-shirt that reads "feel the love" in braille, a cheeky message that might better be left unexplained.
Another choice for a last-minute Valentine's Day gift is the classic twosome on Talk Nerdy to Me, whispering sweet nerdy nothings to each other.
With the Not T design, the giver can choose the meaning, because the statement can be read in several ways, including the homonym "naughty." Perfect for a geeky pair's private joke. It's also a reference to the Liar's Paradox, a computer programming term--it's got layers of meaning to decode.
The Dazzlious t-shirt is a mash-up that's just right for the history-minded movie lover (mash-up indeed!). Here, the movie Snow Cake meets a 19th century engraving of the universe. The Flammarion engraving now looks like fanciful art, and its origins are murky, but it was presented more or less as a scientific drawing in its day. In any case, Dazzlious makes a beautiful compliment for a beloved geek.
Another way to say how wonderful someone is? How about a maze t-shirt, called TeeMazing, that implies "You're amazing!" The giver can create a story about the little red dot at the entrance to the maze and the little red dot at the exit from the maze, write the story in a card or tell it in person, and the gift becomes meaningful and personalized.
The gift certificates available from Tees For Your Head make it possible to make a romantic gesture, no matter how late shoppers get down to business.
About Tees For Your Head: the online home of geeky t-shirts for lovers of the arts and sciences was launched in 2012. Husband and wife team Tom Bates and Karin Carter have an arts and science background and create their own designs to appeal to the geeks of the world. Santa Cruz tee shirt designs are in the works for this Santa Cruz based business.
By the way, Tees For Your Head shirts are worn on the body, not really on the head. Just a helpful hint.
Find these unique geeky tees at http://www.teesforyourhead.com online now.