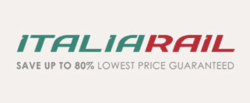 The cabins were very comfortable and clean, and the café car provided an extensive choice of food and beverage options.
Somerville, MA (PRWEB) February 01, 2013
ItaliaRail, the experts on train travel in and to Italy, has partnered with Thello, (the night train service linking Paris to the Italian cities of Milan, Brescia, Verona, Vicenza, Padua and Venice) to offer a new Paris to Rome route, with stops in Bologna and Florence.
Thello is an easy and relaxing way to get between Paris and these great Italian cities. Board the train in Paris at Gare de Lyon station, settle in for a cosy night's sleep in a first class cabin or standard couchette car, and wake up in beautiful Roma. The Termini Station, in Rome, is well located close to all the must see sights and a range of hotels.
Taking the overnight train saves time shuffling back and forth to airports, and money on a night's accommodation in Paris or Rome (if traveling in the opposite direction), which can run upwards of $250 per night. Thello is a great way to go for families, groups and business travelers alike.
When describing his recent journey on the new route, ItaliaRail's Vice President and General Manager Michael Harkness remarked "The service was top-notch. The cabins were very comfortable and clean, and the café car provided an extensive choice of food and beverage options. The staff were friendly and accommodating. Thello is the perfect way to travel - I woke up refreshed and ready for a full day of activities in Rome."
Trains leave Paris every night, seven days a week, at around 7:00 pm and arrive in Rome the next day at approximately 10:15 am - roughly a 15-hour journey while you dream away. This leaves plenty of time to spend the day exploring the ancient monuments, shopping and sampling delicious Roman cuisine.
Travelers have a number of accommodation choices priced accordingly from $50 for a reservation in a couchette that sleeps six, to $388 for the private cabin sleepers for 1, 2, or 3 people (fares subject to change based on travel dates and currency exchange rates.)
All options come with sheets, blankets and pillows. Continental breakfast is included in the cabin fare and all Thello trains feature a dining and bar car. Fresh pastries and coffee are available for purchase in the morning from a buffet cart on each train.
Tickets can be purchased in advance at ItaliaRail.com or email thello (at) italiarail (dot) com for more details.
About ItaliaRail
ItaliaRail is the expert on Italy train tickets and passes. In cooperation with Trenitalia, Italy's national railway, ItaliaRail provides a direct connection to Trenitalia's reservation system allowing rail travelers access to the most routes at the best prices. Travelers are able to book in multiple currencies and knowledgeable customer service agents are available to answer questions and give advice on train travel through Italy. ItaliaRail was launched in 2005 and is a division of International Rail, LLC.