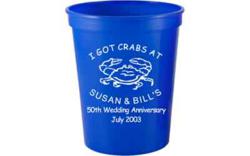 Customers LOVE the ability to Design Online.
Raleigh, NC (PRWEB) February 04, 2013
Kustom Koozies, a leader in the print and distribution of KOOZIE® can cooler industry, has just announced a new tool that allows customers to design their own custom stadium cups before they finalize their purchase on line.
Until now, customers would finalize their order, and receive an artwork proof within a few business days. Now, they can see what their cup will look like, before paying for their order! This will also speed up the delivery process, as the art team at Kustom Koozies will not have to prepare the artwork for the customer. With the customer creating their own artwork, there is even more assurance of satisfaction of the design, in a quicker turn around.
Although the customer designed the cup, they will still receive a final proof, with all order details, prior to the order hitting the presses. This is an extra step taken to assure full satisfaction and confidence the order.
Though this new innovation is very exciting for the business, the art department is still very happy to create custom designs, or update stock artwork, for customers. This new offering simply allows them to make a choice on how they would like to place their order.
Kustom Koozies is one of the foremost internet providers of insulated beverage containers. These are used for a number of different occasions. Can coolers and stadium cups are used as party favors and are particularly popular for weddings, birthday parties, class and family reunions and are used quite often by businesses as a give away item.
"Our goal is to provide competitive pricing, an easy ordering process, and superior customer service. This approach will enhance our relationships with our customer base, which is our ultimate priority", says Julie Liddle, Owner of Kustom Koozies.
Kustom Koozies provides 20 different styles to choose from. The two main categories are collapsible and foam KOOZIE® Can Coolers. Collapsible can coolers are foldable and are primarily used for mailings, or easy transport. Foam can coolers are the best insulators and are sturdy and stackable.
Kustom Koozies provides 100's of free great designs for parties and events. Customers are also able to upload their own graphics.
If you are not sure what these can coolers are called, Remember, it's not koosie, koosies, koosey, kooseys, cozy, coozys, coozey, coozeys, coozie, cozies, coosy, coosys, coosie, coosies, coozey, coozeys, cozy, cozys, cozie or cozies … it's a KOOZIE®.
###
Kustom Koozies was founded in 1999 in the spare bedroom of the owners house. Kustom Koozies services over 6,000 customers annually. Kustom Koozies can be found at http://www.kustomkoozies.com or email us at nancy(at)kustomkoozies(dot)com or "Like" us on facebook!