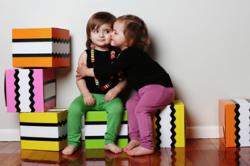 A little more fashion forward.
Auckland, NZ (PRWEB) February 07, 2013
Functional and couture? Is that possible for children's clothing? For the designers of the clothing in the Little Flock of Horrors (LFOH), the answer is a resounding yes. Since 2010, Little Flock of Horrors (LFOH) has been dedicated to making merino clothes of supreme couture comfort for little monsters and monsterettes in a way that is fashionable and cool.
Lucy Wildman, one of the founders of LFOH said, "My son was born in the middle of a particularly cold winter and I stumbled across a couple of merino garments that I fell in love with. The only problem was that the silhouettes and cuts were traditional and pretty blah. I visited a couple of mills in New Zealand, bought a sewing machine and then started to sew a few pieces for him. People commented on the color combinations and cuts so I decided to design a line that was more in line with his style aesthetic and was a little more fashion forward. My daughter was born 18 months later and Little Flock of Horrors went from a pet project to a designed line."
LFOH is the business-child of two Action Sports Industry veterans, Lucy Wildman and Francis Frost. Wildman and Frost decided to take an irreverent, yet practical approach on clothing manufacturing for children. Wildman and Frost challenge that notion with the LFOH brand. Frost said, "While the focus on sports brands is to find fabrics to enhance the performance of the user, comfort can be secondary. We wanted to make clothes that performed and were comfortable." With research, it became clear that there was nothing like LFOH available in the marketplace. LFOH's licorice all-sorts candy colored line focuses on merino that is couture, functional and cool for kids of all ages.
The LFOH brand is now available to fashion forward families in the United States. Carried at mine.lfoh.net and high-end children apparel retailers, every piece is designed for style and comfort of children no matter where they go.
For more information on the LFOH brand or to schedule an interview with Lucy or Francis, visit the Little Flock website at http://www.lfoh.net, email lucy(at)lfoh(dot)net or call (401-339-7568). For sales and distribution inquiries contact Module Marketing.
# # #