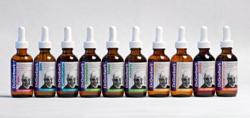 Revenue for Dr Garber's Natural Solutions® has nearly doubled in 2012.
Santa Monica, CA (PRWEB) February 07, 2013
Dr. Garber's Natural Solutions® is pleased to announce that revenue for fiscal 2012 has increased 84.6 % over the previous year. Through a new partnership with retail representative Brandstorm HBC, distribution to Whole Foods Markets in California and Nevada has doubled.
Other recent additions include Metropolitan Markets in Seattle, Washington, Lassen's and Good Earth in California and the first international distribution of the brand to the Phillipines. Along with a newly designed web store, national distribution to professionals through Emerson Ecologics and Natural Partners, company president Dr. Stuart H. Garber, D.C., PhD is looking forward to continued growth and expansion in 2013.
The product line has been re-branded as dietary supplements rather than homeopathic remedies to allow for a larger market and faster growth. This decision was made so as to appeal to a much wider cross-section of the population, many of whom are still unfamiliar with homeopathy.
Newly designed labels now make it clear that the formulas are in compliance with current good manufacturing practices (cGMP), are gluten free and contain no GMO's. The new labels also have instructions for use with children and the droppers are now marked for easier measurement.
Dr. Garber's Natural Solutions® is a unique line of biotherapy formulas that safely and effectively address many of the most common conditions while producing no harmful side effects. The present product line includes remedies to help conditions such as anxiety, environmental and seasonal issues, bone strength, constipation, depression, female hormonal balance, joint issues, lung, skin and sleep disorders.
These great tasting and easy to use formulas are the first and only that exclusively combine the three biotherapies: gemmotherapy, lithotherapy and organotherapy. By combining the biotherapies in a special synergy critical to their effectiveness, Dr. Garber has been able to target specific conditions in a unique and previously unattainable way.
Dr. Garber formulated the remedies to help his own patients in his private practice in Santa Monica, CA in the early 2000's. As he is well known in the regional alternative health community, word spread quickly and he was soon making small batches for local practitioners. He realized that he had created a new way to help heal the world inexpensively and with no side effects.
It took a few years, but Dr. Garber's Natural Solutions® product line was finally approved for the Southern California region of Whole Foods Markets. Dr. Garber personally delivered the remedies to four local Whole Foods Markets as a trial in 2008. The products proved themselves worthy and he was able to add most of the stores in the Southern California region.
The recession hit and slowed the expansion for the company. Self-financed, Dr. Garber had few funds to promote and no retail representation to support the sales.
In 2011, Dr. Garber was introduced to Guillaume Lois, a former regional vice president of homeopathy giant Boiron, now head of his own boutique distributorship BrandstormHBC. Exactly the person who Dr. Garber needed to help move the company forward.
Dr. Stuart H. Garber, D.C., PhD has been practicing holistic medicine since 1981. He has lectured to medical, dental, chiropractic and acupuncture groups in the United States, Europe, Asia and the Caribbean. In 1997 Dr. Garber became the first person in the United States to receive a Ph.D. degree in homeopathy. He is the developer of Dr. Garber's Natural Solutions line of condition specific biotherapy formulas that are sold in Whole Foods Stores in California, other retail outlets, through doctors offices and his website. He practices in Santa Monica, CA where he also conducts research in homeopathic medicine.