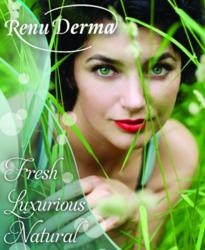 Don't miss the chance to kiss eye wrinkles good-bye
Salisbury, NC (PRWEB) February 12, 2013
Renu Derma Natural Cosmetics is proud to announce the launch of a new blog http://renuderma.wordpress.com/. Founder Maia Smith, an Image and Beauty Expert, enthusiastically educates others on the benefits of a green lifestyle and the use of natural anti-aging products. Her personal dedication is reflected in her company's focus- to encourage and empower women to live healthy, green lifestyles.
Readers can find many interesting topics such as:
"8 Steps To Wellness and Longevity", "Maintaining Healthy Weight" and "Dark Circles, Bags and Crow`s Feet."
Renu Derma's beauty experts will share their findings as they research and compare the quickly growing variety of natural anti aging products and services. Interviews with leading experts in the health and beauty industries will be featured. Another exciting aspect of the blog is the potential to serve as a community page for guest bloggers and experts in the natural anti-aging industry.
"This blog is just one of the tools we're using to deliver our passionate message to our customers and followers," Maia Smith shares. "Since the format of the blog allows comments and questions, it gives us an opportunity to interact with our followers - and those who will be joining our family- and answer every question or comment they may have."
The most recent blog post has a bonus for readers - important tips on choosing an eye cream and a Renu Derma Eye Cream giveaway. Blog readers can submit an entry form to be eligible to win the best selling product. - wrinkle repair eye cream. Entries are accepted until February 14th.
Judith, a new member of the Renu Derma family confides, "Honestly, I was happy with what skin care program I had been using, but after listening to you, I thought I would give your eye cream a try. The fine lines called "crow's feet" at the outer corners of my eyes are GONE.....in just 2 months!"
Don't miss the chance to kiss eye wrinkles good-bye.
About Maia Smith, Founder and CEO of Renu Derma Natural Cosmetics.
As an Image and Beauty Expert, Maia Smith has appeared in women's magazines and newsletters. She has over twenty thousand page views and database of four thousand loyal members. Renu Derma Natural Cosmetics provides anti-aging products for people who desire natural, effective skincare.
http://www.renuderma.com
Tel: (866) 964 3932
Address: 103 S. Main St. Salisbury, NC 28144