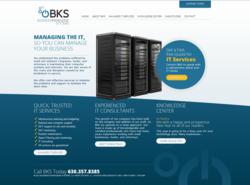 Idea did a great job of rejuvenating our branding. They worked with our interests in mind and kept us informed every step of the way
(PRWEB) February 01, 2013
Business Knowledge Systems has just launched a new website with the help of Idea Marketing Group. The website displays a modern look and working closely together, Idea was able to create new branding to better fit BKS needs from the logo to the website.
An updated look was necessary and BKS turned to the right team of professionals. Idea overhauled their branding so that the BKS image is current and customers were reassured that their services are also up-to-date while visiting the website.
In addition to the new visuals the BKS website was built on a wordpress platform. This is beneficial because it allows staff the ability to easily revise and add information from the back end. Because BKS deals with multiple computer networks at any time, they understand the importance of keeping a website updated so customers are always informed.
To enhance the viewers' experience further, a blog has been added. This enables website visitors to have primary access to the most recent news and highlights from the staff. The challenge of how to manage IT solutions efficiently is continually changing, they must stay on the cutting edge which is what helped inspire the redesign of their website.
President of Business Knowledge Systems, Chad Holstead says "the combination of an easy to use website from the front and backend as well as high-quality, modern visuals is a setup for success. In addition to that, having the blog feature is great because it creates yet another way for us to communicate with our customers which is vital to doing business."
The Idea team was eager to create this new website, combining the industry knowledge of BKS and the creative and professional talents of Idea set up for a fantastic outcome.
To view the new Business Knowledge Systems website please visit http://www.bksteam.com