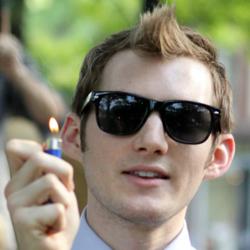 Civil disobedience reveals who the real aggressors are--the ones wearing badges and following orders. - Derrick J Freeman
Philadelphia, PA (PRWEB) February 20, 2013
After ending a year-long crime spree, repeat offender Derrick J Freeman released a documentary today featuring behind the scenes footage of him outrunning police on foot and the aftermath of his jail sentence. Derrick J's Victimless Crime Spree is on sale today, and never before has a documentary provided such an in-depth analysis of the criminal mind. Learn the reasons which drove this 22-year-old Philly boy to rack up 10 years' worth of charges in just six short months. But Derrick J is not alone. He is supported by the Shire Society, a large and tight-knit community of colorfully disobedient friends resisting government oppression in New Hampshire.
A criminal by choice, Derrick J is a lovable character who will capture your attention as well as your heart. Although highly educated, he opposes all government involvement in his life, and makes it his goal to live as constraint-free as possible. He is arrested once for having a dance party, twice for filming at court, and three times for "resisting." In one of the most moving scenes of the film, Derrick J serenades the officer who will soon be arresting him, asking her to "Give Peace A Chance."
The Crime Spree takes place mostly in Keene, NH, the northern capital of Libertarianism, where over a hundred people have relocated to support each other in an attempt to live free. Derrick J and the Shire Society's effect on the residents of Keene is a mixed bag. While many oppose his antics, some people are supportive: the group made national headlines when it organized the first and only resistance of its kind with the creation of "Thanks But No Tanks," a coalition whose goal is to stop the militarization of the local police.
"I knew I would end up in jail eventually, so why not use it to make a statement?" Derrick J says. "Civil disobedience reveals who the real aggressors are -- the ones wearing badges and following orders."
The DVD features over four hours of behind the scenes footage, including video that has been banned from YouTube. It also features two special commentary tracks plus footage of the real-life premier of the movie at Keene Cinemas. The DVD is just $8.99 on Amazon.com. Whether you're a dyed-in-the-wool Democrat or a Rush Limbaugh Republican, you're going to fall in love with Derrick J.
The star of the move, Derrick J, is available for interview to talk about the movie, civil disobedience, and his activism. Please use the contact information below to book him.