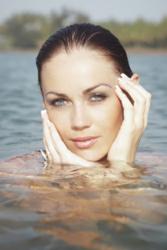 Anaheim, CA (PRWEB) February 11, 2013
The popular skin care company, Ageless Derma, has recently come out with an anti-aging sunscreen that is derived from minerals and other natural ingredients. The Daily Mineral Guard Sunscreen has an SPF of 25, protecting users from the sun's aging effects and enhancing the skin at the same time.
Ageless Derma's Daily Mineral Guard is unique in its makeup of minerals and all natural ingredients to protect the skin from the sun's harmful rays as it prevents photoaging and gives the skin a radiant glow. The company has discovered the exact proportion of natural sunscreen ingredients to slow down the aging process for those who are exposed to the sun. This new sunscreen pledges to be a boon to the anti aging sun care solution in today's market.
The developers at Ageless Derma are well aware that the sun plays a major role in premature wrinkling, fine lines, and the production of dark spots (or sun spots) on the face, often not showing up until years after multiple bouts of sun exposure. The scientists that formulate Ageless Derma's line of skin care creams wanted to also have this new sunscreen add moisture to the skin, fight free radicals that cause wrinkles and other skin damage, and promote healing as it protects the skin from UV rays.
One of the minerals included in Ageless Derma's Daily Mineral Guard is micronized titanium dioxide. This mineral is highly resistant to UV rays as it scatters and absorbs UV light. It is also a very well tolerated mineral on those with sensitive skin as it causes less irritation than other minerals contained in sunscreens. Its light-scattering abilities allow the face to virtually glow. It will also lighten dark spots caused by sun exposure, thereby evening out most skin tones.
This newly released sunscreen from Ageless Derma also contains Buddleja Davidii and Thymus Vulgaris. These botanical extracts work together as free radical fighting agents. Free radicals are released often as a result of the environment, including pollution and smog. Working to fight free radical damage makes the skin stronger, more resilient, and prevents wrinkles from forming in addition to adding extra protective moisturizing layers to the skin.
Ageless Derma does not use parabens or any other artificial sources to keep their ingredients fresh and stable. All natural components are used in the company's products in order to protect the health of their customers. The company is becoming best known for its anti aging protective qualities in the skin care field. This sunscreen is safe for those with sensitive skin, even for consumers with conditions such as rosacea or severe acne. It has a soothing quality and its formula is non-greasy.
Scientists at Ageless Derma are proud of the Daily Mineral Sunscreen because of its high broad spectrum sun protective qualities. It is also useful for post-treatment of sunburned or inflamed skin and its abilities to reduce the outward signs of aging. Consumers will appreciate this sunscreen's ability to also firm and smooth the skin.