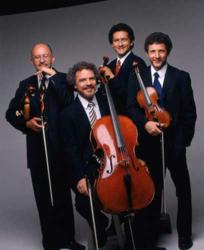 Modesto, CA (PRWEB) February 01, 2013
Following the sold-out performance by the Los Angeles Guitar Quartet last September, a collaboration between Modesto Junior College and the Gallo Center for the Arts resumes with the second in the two-concert series with an appearance by the leading proponent of Latin American music for string quartets, Cuarteto Latinoamericano.
The award-winning Mexican ensemble will take the stage at the Gallo Center on Friday, February 22 at 8 pm. Tickets are $15, $25 and $35, and may be purchased online at GalloArts.org, calling (209) 338-2100, or at the ticket office, 1000 I Street in downtown Modesto. Groups of 15 or more people receive a 15% discount on ticket prices.
Cuarteto Latinoamericano is comprised of the three Bitrán brothers, violinists Saúl and Arón and cellist Alvaro, along with violist Javier Montiel. The quartet won the 2012 Latin Grammy Award for Best Classical Album, for their recording of "Brasileiro: Works of Francisco Mignone." The group's program at the Gallo Center will include selections by Héitor Villa-Lobos, Franz Schubert, Arturo Márquez, Francisco Mignone and Alexander Borodin. Cuarteto Latinoamericano's full program may be viewed at GalloArts.org.
Conceived by Alejandro Sabre, DMA, director of piano and music theory programs at the college, the "MJC Music Appreciation Concert Series" is intended to serve music students as well as help keep performance of traditional western art music alive and well in the community. Sabre is a former member of the Gallo Center's board of directors and now serves on the Center's board of trustees.
"Modesto has a rich musical history and culture," said Sabre. "The concert series is an effort to support and perpetuate that tradition. We hope it will inspire and motivate music students in our community by allowing them to experience international artists live, in a world-class concert hall with extraordinary acoustical qualities."
Sabre said the series also supports the role played by the Gallo Center as a leader in arts education. "Because of the series, students not only will see great artists performing in their own back yard, they will have opportunities to interact with them one on one, through workshops, master-classes, live rehearsals, conferences and other special events."
The Gallo Center's 2012-2013 Premier Partner is Boyett Petroleum.