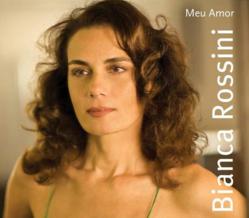 "Honest, captivating and original—Meu Amor is a keeper!"
-- Jeff Tamarkin - Associate Editor, JazzTimes magazine
Los Angeles, CA (PRWEB) February 06, 2013
Acclaimed Brazilian Bossa Nova recording artist Bianca Rossini has done it once again! Bianca's newly released Meu Amor features 4 Bossa Nova songs co-written by Bianca and her partner Dana Kaproff. Meu Amor follows her internationally acclaimed debut album Kiss of Brasil, which has been featured by more than 80 Jazz radio stations in the US and in more than 15 countries in Europe. It is featured on the top Bossa Nova playlists on Pandora, MOG and Spotify. Kiss of Brasil has made Bianca an instant star in the Bossa Nova world! Critics worldwide have praised Bianca's music!
"Honest, captivating and original—Meu Amor is a keeper! In a field as overpopulated as Brazilian jazz, the only way to make an impression is with originality. Bianca Rossini is an original. On Meu Amor, her latest CD, the Rio-born, Los Angeles-based Bianca's captivating, self-penned compositions and stunning vocal performances resonate long after the first listen. Bianca's honeyed, sensual voice is golden: smooth yet commanding, classic but cutting-edge. The arrangements, production and musicianship are all first-rate—a perfect match for Bianca's honest, velvety, assured delivery. Like Kiss of Brasil before it, Meu Amor is a keeper, an exciting new work from an artist steeped in classicism but with an ear toward the future. I can't get enough of this music!" Jeff Tamarkin - Associate Editor, JazzTimes magazine
"What a treat to be entertained by the sultry and alluring voice of Bianca Rossini once again. Her new EP Meu Amor is a continuation of the beguiling sound that we experienced with her last outing. So, as that one was a Kiss of Brasil, Meu Amor is the embrace. You feel the subtle excitement of romantic nights in a Brazilian breeze. Meu Amor - listen and enjoy!" Malvin Massey Jr. - General Manager - WUMR U92 FM - "The Jazz Lover"
Bianca's new song Faxineira is one of Bianca's favorites. A Faxineira is a cleaning lady in Brasil. Bianca explains: "While I was in Brasil just before I released 'Meu Amor,' I played Faxineira in different homes where there was a big crowd including the people who worked in the house. As they listened to my song Faxineira everybody would samba! At the end of one performance, a faxineira was crying. I asked her why and she said: 'This is the first time I have ever heard someone celebrate faxineiras. Your song makes me so very happy.' I hope that my song Faxineira will inspire a new look at the faxineiras who deserve much appreciation. Brazilian faxineiras are in fact an intrinsic and a very important work segment that support the family life in Brasil, as the Hispanic home workers are in the US."
Bianca stars in the title song of Meu Amor cinematic black and white music video by Award-winning and Emmy-nominated cinematographer and director James Chressanthis and produced by Film Producer/Writer Tony Frere, co-starring Ricardo Chávez.
Bianca's sensual and lyrical style continues in Meu Amor (all songs are in Portuguese) with the addition of Baião Faxineira. Released by Apaixonada Music, Meu Amor is available worldwide at biancarossini.com, iTunes, amazon, cdbaby.
About Bianca Rossini
At the forefront of Los Angeles' current wave of Brazilian music and becoming a significant voice in Brazilian music is Rio de Janeiro-born, Los Angeles-based Bianca Rossini, renowned for her sensuous performances of Bossa Nova, Samba and Bolero. Her multi-faceted career includes feature film and television acting roles opposite stars including James Spader, Hector Elizondo, Richard Dreyfuss, Christian Slater, Dick Van Dyke and Dom DeLuise. Bianca also appeared in movies "Moon Over Parador," "The Fast One," "Brainiacs," "Mobsters," and "Bad Influence." Bianca has composed music for TV series "The Sentinel" and "Chicago Hope." She produced and hosted more than 100 episodes for weekly Los Angeles TV talk show, "The Bianca Rossini Show." Bianca has authored three books: "Love in Black and White" with photographs by Michael Kenna, Bilingual Edition (English/Portuguese) "A Brazilian Heart - Rubies, Murder Love and Other Poems," and "Julia - Confessions of a Brazilian Super Model." Bianca's new CD "Meu Amor" follows her internationally acclaimed "Kiss of Brasil" original Bossa Nova album.