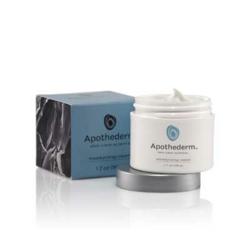 Anaheim, California (PRWEB) February 03, 2013
The skin care retail giant, SkinBeautyMall.com, has added Apothederm skin care products to their line of skin therapy solutions. Apothederm is now available at SkinBeautyMall.com, a site that customers count on for its dedication to natural ingredients and the latest in technologically significant contributions to the skin care product industry.
Apothederm is well known for their patented SmartPeptidesTM technology. This Apothederm expertise is the key to the inner workings of their skin care creams by letting the products focus upon specific areas of concern. The peptides in this technology allow Apothederm skin care creams to work much like cellular messengers, reviving and allowing the skin's key functions to return to their former, usually more youthful, states.
SkinBeautyMall takes pride in introducing Apothederm skin care creams, serums, and facial cleansing treatments to their clientele. One of Apothederm's skin care creams, such as Apothederm Hydrating Eye Cream, goes straight toward fixing puffy, tired-looking eyes by using the SmartPeptidesTM technology inherent in the Apothederm products. The cream targets those visible signs of aging and photo-aging by hydrating the delicate skin there and softening fine lines.
One of the reasons for SkinBeautyMall's inclusion of Apothederm to its lineup of skin care creams is the company's desire to have products that are backed up by scientific research. Apothederm fits that bill to a tee, with independent clinical studies cited to back up their claims for smoother skin and lessened wrinkles with continual use of their Hydrating Eye Cream as just one example.
Keeping the skin clean yet moisturized is another concern for Apothederm users and this is apparent with their facial cleansing creams, such as the Apothederm Moisturizing Cleanser. This facial cleansing product will remove makeup plus environmental dirt and pollution that can accumulate on the face. It does not simply take away dirt, though. It also adds moisture and a protective moisture barrier in addition to protecting the skin from free radical damage, such as damage that can be caused by the sun and the effects of natural aging. The Apothederm facial cleansing moisturizer also is a refreshing and softening cleanser. It contains lipids, vitamins and essential oils.
SkinBeautyMall.com now carries a complete line of Apothederm products, including the Hydrating Eye Cream and the Apothederm Moisturizing Cleanser. Other skin care creams added onto the SkinBeautyMall.com site are the Apothederm Acne Clarifying Treatment, Apothederm Bright Skin Serum, Brightening Cleanser, Firming Serum, Moisturizing Cream and the Apothederm Stretch Mark Cream.
SkinBeautyMall.com only focuses on the top skin care products available that are the most effective for consumers. The selected manufacturers, such as Apothederm, are chosen by SkinCareBeauty.com very carefully and are vetted for their use of scientifically proven ingredients that beautify and improve the skin, particularly aging skin. The company offers a two-week, money-back guarantee for all of the products sold on its site. SkinBeautyMall.com's obligation is to their customers, to provide quality skin care products that are dermatologist tested.