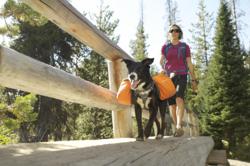 "Over the years, Ruffwear's design team has spent a fair amount of time around webbing looms and I have to say that it has been time well spent," said Patrick Kruse, Ruffwear's owner and founder.
Bend, Oregon (PRWEB) February 01, 2013
Ruffwear, the leading producer of high performance dog gear, unveils new products for the spring season with a focus on proprietary webbing construction and streamlined manufacturing processes to minimize post-industrial waste.
The spring lineup includes a redesign of the Approach Pack™, Swamp Cooler™ cooling vest, Top Rope™ Collar, and the Lunker™ and Hovercraft™ toys. All-new for spring are the Slackline™ Leash and the martingale-style Chain Reaction™ Collar.
This line of new products is now available through specialty pet and outdoor retailers as well as through http://www.ruffwear.com.
Ruffwear-Designed TubeLok™ Webbing Combines Strength, Durability & Comfort
"Over the years, Ruffwear's design team has spent a fair amount of time around webbing looms and I have to say that it has been time well spent. With the knowledge we have picked up through this on-the-job experience, we have developed an improved tubular webbing construction, a process we call TubeLok™. This webbing construction allows us to weave a strong, durable, creative design, while putting comfortable webbing in the hands of our customers, beauty and brawn all in one. Our thinking is when our dogs are on a leash, we are on a leash, so why not make the experience pleasant for all," said Patrick Kruse, Ruff Wear's Owner and Founder.
The TubeLok process maintains the supple feel while significantly reducing the opportunity for snagging and pulling that can happen with traditional tubular webbing. Ruffwear's TubeLok webbing can be found on the following new and redesigned products available February 2013:
Slackline Leash – Picks up the slack so you don't have to
All new for 2013, the Slackline Leash is adjustable, so you can make the leash longer or shorter, depending on your surroundings. An ergonomic slider allows for easy one-handed length adjustment on the go – adjustable from 3.5 to 6 feet. The Slackline Leash includes a side-release buckle for a hands-free, waist-worn option or for quick clipping to a tree or post. The TubeLok webbing features a continuous reflective stripe for low-light visibility. MSRP: $39.95.
Chain Reaction Collar – Ruffwear's martingale-style collar is back by popular demand
Ruffwear's Chain Reaction Collar is back in the line after a six-year hiatus. Constructed with TubeLok webbing and a short section of steel chain, the Chain Reaction Collar allows for limited correction with an audible cue, all while providing comfort and convenience for everyday wear. This collar has two leash attachment options – a single-piece V-Ring for non-correction and the adjustable cinch attachment point. MSRP: $24.95.
Top Rope Collar – New TubeLok webbing in four updated colors
The SS13 Top Rope Collar features TubeLok webbing in four updated colors. This rugged collar still features the Ruffwear-designed, all-metal Talon Buckle™ that provides ballast to keep the V-ring at top of the dog's neck, allowing easy leash-clipping. The Top Rope Collar also includes reflective trim integrated into the webbing for low-light visibility. MSRP $29.95.
Updated & Redesigned Ruffwear Gear for Spring/Summer 2013
Swamp Cooler – Cooling vest has refreshed materials, overall design
The SS13 Swamp Cooler features updated materials like hydrophobic webbing and thoughtful design elements like sheltered buckles. Dogs stay cooler than ever with new materials in the wicking outer layer facilitating evaporation, the absorbent middle layer that stores water for evaporation, and the comfortable inner layer that transfers the cooling effect to the dog. MSRP: $54.95.
Approach Pack – Less is more with reduction in overall weight
The popular Approach Pack has been improved from the foundation up. The overall design has been streamlined and the new materials are lighter weight, while maintaining long-term durability. The attached saddlebags feature an efficient, weight-forward design and the Web Master™ Harness frame provides load stability and weight distribution. The updated padded assistance handle makes it easy to help dogs over obstacles. The Approach Pack is ideal for shorter-duration hikes. MSRP: $79.95.
Ruffwear's Commitment to the Environment is Applied to Manufacturing Dog Toys
In most manufacturing processes, there is waste and the process of making dog toys is no exception. Together with our partner PLUS Compound Technologies®, the Ruffwear R&D team discovered new ways to reduce waste in the process of making our Lunker and Hover Craft dog toys.
Lunker – Interactive floating toy that's recycled and recyclable
Starting with post manufacturing waste foam from the footwear industry to create a centercore that provides just the right weight for long tosses, the Lunker has been re-envisioned from the core out. By reworking the pattern and the rope handle connection, Ruffwear reduced seams and improved overall durability. One of the best features about the Lunker is that when it is time to retire, the whole Lunker can be sent to PLUSfoam® to be recycled and begin life anew through PLUSfoam®'s comprehensive recycle/repurpose program. MSRP: $19.95.
Hover Craft – High-flying disc's new production method reduces waste
Ruffwear improved the flight, durability and aesthetics, while improving the patterns and construction process. In the redesign, the manufacturing process was modified to reduce the amount of post-industrial waste generated when producing Hover Crafts. "We are now using the same amount of material to produce one Large-size Hover Craft as we did previously to produce one Small-size Hover Craft," says Geoff Raynak, Director of Product Development. MSRP: $24.95.
About Ruffwear
Ruffwear's mission is to build performance product to enhance and inspire outdoor adventures for dogs and their human companions. Ruffwear Performance Dog Gear™ combines technology, quality, fit, function, and safety to meet the needs of active and adventurous canines and their humans.
Ruffwear is committed to preserving open lands and waterways, providing important habitat for wildlife and recreational opportunities for humans and canines. Through partnerships with The Conservation Alliance and regional grass roots organizations, Ruffwear is able to give back and create opportunities to strengthen the bond between humans and their dogs.
Based in Bend, Oregon, Ruffwear sells their products through specialty pet and outdoor retailers as well as http://www.ruffwear.com. Find Ruffwear on Facebook, http://www.facebook.com/ruffwear and on their Dog Blog, http://dogblog.ruffwear.net, and on Twitter, http://twitter.com/ruffwear.
About PLUS Compound Technologies, LLC.
PLUS Compound Technologies® is committed to "Saving the planet...one product at a time™". Using its proprietary, 100% RECYCLABLE compound called PLUSfoam®, the company makes products for manufacturers of branded consumer goods. PLUSfoam® often outperforms the materials it is intended to replace such as traditional foams, rubber and plastics. PLUSfoam® operates reclaim facilities in the US and Asia where consumers can return any products made with their proprietary compound. Details about the PLUSfoam® post-consumer reclaim program can be found at http://www.PLUSfoam.com/recycle.