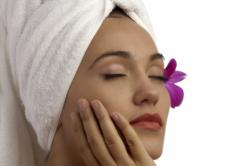 Anaheim, CA (PRWEB) February 18, 2013
Ageless Derma is quickly becoming the darling of the skin care product industry with their creams and masques that have anti-aging effects on the skin. The company's Special Clay Masque is meant for use on the whole facial area, but Ageless Derma extols the virtues of simply using the masque as a spot treatment for problem areas, too, such as acne breakouts.
The Special Clay Masque was developed by Ageless Derma's physicians and scientists. Their intent was to use the masque on the traditionally more problematic oily skin, though it can be useful for all skin types. This oily skin type, however, is the most likely to break out and have oil-clogged pores. The Special Clay Masque can also be used to treat just newly emerging pimples or blackheads in isolation with satisfying results. This can be done in addition to using the Special Clay Masque on a regular basis all over the face.
This Ageless Derma masque is made of all natural ingredients to Ageless Derma's credit. The masque has been developed for its use in drawing out toxins from the skin, regenerating youthful skin cells, and clarifying skin tone. Since oils, dirt, and toxins are extracted with the masque, Ageless Derma notes that just a small bit will go a long way toward cleansing and purifying the skin, reducing acne, and removing impurities. The Special Clay Masque also has anti-aging properties, as it will slough off dead skin cells to reveal a newly cleansed skin that looks and feels younger.
Because the Special Clay Masque is perfect for oily complexions, the masque itself is made of a non-greasy formula. The Masque is perfect for once or twice weekly use as it is non-toxic and safe to use. Even in-between usage for those erupting blackheads here and there is safely recommended.
The Ageless Derma Special Clay Masque can be dabbed onto troublesome spots as needed. Consumers can keep to their once a week schedule of detoxifying their entire face, with tiny treatments adding to the ultimate benefits of looking younger and being more economical with their purchase. Customers can gain the most use out of their Clay Masque by making the product last longer.
The Clay Masque is made of all natural ingredients. One special ingredient, Ichthammol is made of shale oil, which has anti-inflammatory properties and also fights bacteria and fungi. Methyl Gluceth comes from corn sugar and starch and is an emmollient that soothes the skin. Methyl Gluceth has the ability to open pores and follicles, a huge plus in an activating clay masque. It's a safe and gentle natural ingredient.
The earth's minerals used in Ageless Derma's Natural Clay Masque include Titanium Dioxide, which helps protect the skin from ultraviolet rays and prevent wrinkles. Magnesium Aluminum Silicate is a mineral found in natural clay that has been proven very safe to use on the skin. Allantoin is extracted from the comfrey root. It heals the inflamed skin caused by acne and stimulates new cell growth, indicating an anti-aging effect. There are also vitamins in Ageless Derma's masque, including Vitamin B5 taken from rice husks. This works to rejuvenate skin cells and silken the skin.