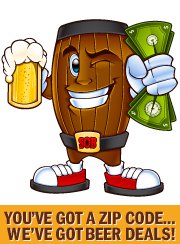 The $10.8 billion we spend on beer for one single day is enough to buy 2,160,000 iPads -- or 10 B2 stealth bombers!
Houston, TX (PRWEB) February 01, 2013
Americans will spend $10.8 billion on beer for the Super Bowl this year, according to a new infographic created by SaveOnBrew.com, the world's only search engine for retail beer prices.
This data is based on information from Nielsen and only includes cases of beer purchased for consumption at home during the weeks preceding game day. The Beer Institute confirms that Americans drink 3 percent of the nation's total beer consumption during the Super Bowl.
"It's really mind-boggling when you think about it," says SaveOnBrew cofounder Mark Davidson. "The $10.8 billion we spend on beer for one single day is enough to buy 2,160,000 iPads -- or 10 B2 stealth bombers!"
The third annual SaveOnBrew Super Bowl infographic also includes data like:

Which percentage of people use the bathroom during the game so they won't miss commercials
How many trips people will take to the bathroom
Top brands from San Francisco and Baltimore
How many people will call in "sick" on Monday
This year's infographic points out that consumers can taste beers from both Super Bowl cities. "With a new brewery opening each day in America, according to the Brewer's Association, we thought it'd be an opportune time to spotlight beer brands like DuClaw Brewing Co and 21st Amendment – that hail from Baltimore and San Francisco, respectively."
Davidson adds that the SaveOnBrew Beer Blog regularly spotlights exclusive interviews with craft brewers, beer news, beer reviews, gift guides for beer lovers, brewing science posts, lists of top beers for special occasions, and infographics. "We want to be a one-stop-shop for all types of beer information – not just beer prices," he says.
SaveOnBrew.com is primarily a nationwide search engine for retail beer prices designed to aid consumers in comparing prices before they set out for the store. At any given moment, the site lists 250,000 – 350,000 beer prices from more than 50,000 retailer locations. The founders estimate that consumers could save more than $1 billion using SaveOnBrew for their Super Bowl beer purchases.
For further information, one may visit SaveOnBrew.com or contact the company directly at (713) 412-9057.
About SaveOnBrew.Com: Founded in 2010 to help thirsty beer drinkers across the United States find the lowest advertised prices for one of the world's most popular beverages.