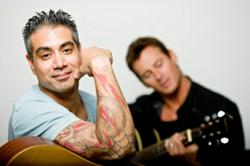 "From your first lesson, I will have you playing. And, I will inspire you to keep on playing. The guitar is not an easy instrument to play; but if you aspire to be an accomplished player; I can get you there."
Fort Lauderdale, Florida (PRWEB) February 01, 2013
Surprise your sweetheart this Valentine's Day with a love song to express your heart. Fort Lauderdale guitar teacher and music guru Dyce Kimura is offering a special deal for new signups: a guitar lesson focusing on a love song of the student's choosing for half price with the purchase of five lessons.
Playing a song is a great way to remind a significant other of how they are loved. Playing a song as a gift for Valentine's Day requires special effort and is therefore much more meaningful than a gift that can be bought with money alone. This would be the ideal gift for the person who has very little resources on a gift and also happens to want to learn the guitar. It can also be ideal for the well off individual that has already given their significant other everything they can think of.
The psychologist Kela Price writes in her article titled "Express Your Love Thru Music" about the effect of a song on a couple. She writes, "You can play the song that you first kissed to, the song that you first danced to at your wedding, or the song that just reminds you of how you feel for your spouse. All are great ways to remind your spouse just how much he or she means to you, are bound to bring back some sweet memories and even help create some new ones." Clearly giving a loved one the performance of a song is much more memorable and endearing than simply a box of chocolates. A consummate musician and highly regarded Fort Lauderdale guitar teacher, Dyce Kimura can play and teach practically any song he hears right away. He will get his new sign-ups jamming in no time at all and send them off the serenade their honey on their special day.
Dyce Kimura is a highly-regarded Fort Lauderdale guitar teacher. A legitimate, full-time guitar instructor, he rose straight to the top of Miami's competitive music scene as a recording session pro and top-flight guitar instructor. For years, Dyce Kimura has been a favorite with everyone from beginners and kids—to intermediate players and semi-pros. Now, through the power of the internet, Dyce reaches avid students from across the globe directly with his Skype blues guitar lessons. Take advantage of this special Valentine's Day discount offer for a love song guitar lesson and call Dyce today at 7864573687.