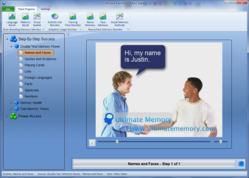 It's now becoming apparent how brain functions associated with memory become more efficient when they're given time to digest and store new information.
New York City, NY (PRWEB) February 07, 2013
Both sleep and "wakeful rest" are confirmed to help people retain newly-acquired information, states a study by the University of Edinburgh, Scotland. This study focused on two sets of elderly participants, both of whom were told a story. In the first group, the participants were given a 10-minute break before being asked to recall the information. In the second group, the participants were given another task instead of a break. When both groups were quizzed on the content of the story, the first group – the one that had been given the break – recalled the details of the story more accurately. What's more, this effect lasted over the course of several weeks' tests.
Marc Slater, the managing director of Ultimate Memory, commented on these findings. "Yet another study corroborates our conviction that rest and sleep are crucial in boosting our memory performance," he said. "It's now becoming apparent how brain functions associated with memory become more efficient when they're given time to digest and store new information. It's a thoroughly important development in understanding, and one that can be widely applied for many individuals whose profession or circumstances call for retaining large chunks of information."
Having short breaks in between demanding tasks has been proven to facilitate later recall. To put it simply, it means that in any program focused on improving memory we don't just need specialized brain exercises, we need something more natural and efficient: sleep and rest.
Wrapping up his comments, Slater stated, "When we consider young students and ESL learners around the world, it's our duty to recommend frequent short breaks and sufficient sleep to promote improving their memory and making their lives a bit easier. It's nice to have technology available and present in everything we do, but it's also necessary once in a while to unplug and rest for a moment. Modern life is characterized by an insatiable desire for constant input, but this leaves no room for actually processing all the information we receive. This is a shame, really. Let's all remedy that by switching off once in a while, and getting some rest."
The research done in this study differs from many other memory-centered studies, which focus on techniques, strategies, and tactics we should be incorporating for boosting our memory. By contrast, this study simply tells us to actually do nothing active. Our brain, when rested, will take care of improving our memory itself.
For more information on how Ultimate Memory software can help, please visit: http://www.ultimatememory.com
About Ultimate Memory™
Ultimate Memory™ is the market's leading memory improvement software package.
Scientifically proven to improve memory with as little as ten minute's user per day, Ultimate Memory™ is also backed by an iron-clad guarantee.
Containing many innovative strategies, tutorials, tips and exercises, users benefit from a myriad of varied ways to learn.