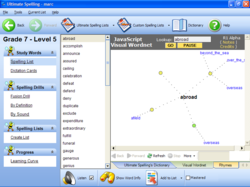 Unless we integrate all effective theoretical models into a uniform spelling program, we deprive our students of effective and effortless spelling acquisition.
New York City, NY (PRWEB) February 04, 2013
Today, eReflect the company behind Ultimate Spelling software announced how theories on whether spelling is a gift or an acquired skill are no longer relevant. What is needed is a comprehensive theory that incorporates both these aspects of spelling acquisition and enhancement.
A study conducted by the Brock University reviewing the different theories on spelling acquisition has concluded how Developmental and Overlapping Waves theories should not be relied on individually to explain how children are learning to spell.
Ultimate Spelling company eReflect agrees, affirming the conclusion that what really happens as children learn, verified by studies done in actual teaching contexts, is that there is a combination of self-introduced strategies and explicit spelling instruction.
As Marc Slater, the managing director of eReflect, commented, "Although this is a research study that was conducted a few years back, its urgency is still relevant, and it is based on an ongoing and expanding dataset related to spelling instruction. We can't rely on sterile and prescriptive theories and expect every child to learn to spell in the same way. It's imperative that we put aside any stern adherence to theories and try to incorporate all efficient aspects into a single, effective one. Unless we integrate all effective theoretical models into a uniform spelling program, we deprive our students of effective and effortless spelling acquisition."
Developmental theories of spelling focus on how a learner goes through discrete stages of learning. This often poses certain difficulties in classroom instruction as a teacher often assumes all students have completely mastered each stage— but this is rarely the case.
On the other hand, Overlapping Wave theories are premised on the fact that a student uses all strategies available, simplistic or complex, in trying to cope with different spelling challenges. In this approach, there is no clear-cut distinction between the stages of spelling acquisition. As the Brock University study indicates, neither a completely linear nor a completely non-linear teaching approach is useful, because there are positive features of each model.
Marc Slater further noted, "Evidently these are both enlightening strategies, but we need to realize how a more all-encompassing theory needs to be formulated, one that takes into consideration the basic spelling development stages, as well as the different skills and strategies a learner might bring in when trying to master orthography. In other words, we need to eliminate distinctions between 'internal' and 'external' learning processes and accept a settlement where both are equally important."
Ultimately, a skilled speller is someone who has a broad range of strategies and can employ different tactics to facilitate and accelerate the spelling learning progress at all stages of spelling improvement. The spelling software company encourages further research into effective teaching methods that take advantage of this approach.
For more information about how technology and spelling software can improve spelling performance for you and your family, please visit the official website at http://www.ultimatespelling.com.
About Ultimate Spelling™
Ultimate Spelling provides a modern and easy to use spelling software that has been designed with one goal in mind – making children WANT to learn.
It is a fast and easy way to master even the most complicated spelling, without the need to write long lists or complete boring tests.
In fact, Ultimate Spelling provides more than just spelling help. It is a complete educational resource that boosts all level of a child's literacy.
Containing a personal computer tutor, Ultimate Spelling is the most realistic step-by-step guide to flawless spelling ability.