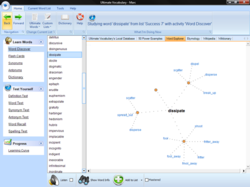 With such an abundance of software tools out there in the market, it's necessary for students, parents, and teachers to filter out the real thing from all of the hype.
New York City, NY (PRWEB) February 06, 2013
It's important to work on increasing vocabulary in order to succeed in school and business. This process is important at all ages, but especially for children who are just starting to explore the big world of words. Words make up the basic building blocks of a child's intellectual development, and a child's vocabulary determines how well they will do in all of their school classes.
Because of this, it is imperative that children are given effective supplemental tools to provide the learning aid that they need. Ultimate Vocabulary understands this very well, and that is why they came up with software that can deliver the best results possible.
As Marc Slater, director of Ultimate Vocabulary, noted, "With children nowadays learning so much faster with the help of technology, software developers must be able to catch up with the market demand and provide a product that can deliver the results in a format that tech-savvy children have become used to."
Slater continued, "Ultimate Vocabulary Software focused on the learning needs of its users of all ages. Keeping in mind the needs of the students to be able to learn what they need within a constructive system, the software lays out easy-to-follow steps that ensure better absorption of the information."
As anyone knows who's looked at the multiple products for sale on the internet, there are many so-called "top programs" out there that promise amazing experiences for both the learners and students. With such an abundance of software tools out there in the market, it's necessary for students, parents, and teachers to filter out the real thing from all of the hype. Fortunately, there are trusted reviewers out there who have already done much of this work for them, like Word Buff.
Word Buff has done a vocabulary software review, and has published its results for the Ultimate Vocabulary software system. Click here to read the review. According to reviewer Derek McKenzie, Ultimate Vocabulary has many notable features. Among the standouts is the user interface, and the various tabs guiding the user to each word, its spelling, definition, and pronunciation. What is most helpful about it, according to the review, are the 50 Power Examples and Word Explorer Tabs.
The 50 Power Examples provide a list of sample sentences showing how each particular word is supposed to be used, in context. This is definitely a bonus considering that this feature really isn't available in the classic dictionary format.
Word Explorer provides a conceptual diagram containing synonyms for the word. Students will find this especially helpful in developing context and nuance for the words.
The comprehensive tests also were found to be very helpful by the reviewers, as a way of pacing the user's learning. By having a feature to chart their progress and mastery of the words, the users get a better idea of how well they are taking advantage of the features of the program and progressing through the increasingly difficult word lists.
However, there are also some points identified by Word Buff in the vocabulary software review where Ultimate Vocabulary could improve. Most of these relate to a request for more intuitive navigation of the menus and tabs. Other than this, Ultimate Vocabulary Software passed the review with flying colors, scoring top marks in content and quality.
or more information on this review and how you can benefit from Ultimate Vocabulary, please visit its official website, http://www.ultimatevocabulary.com.
**********
About Ultimate Vocabulary™
Ultimate Vocabulary provides a proven and powerful platform, built to improve anyone's vocabulary.
The interactive self-improvement system provides more learning tools than any other program on the market, as well as more information on words.
The Ultimate Vocabulary software provides each and every user with a personal computer tutor. Providing a step-by-step guide to learning a powerful vocabulary, Ultimate Vocabulary is the learning tool everyone can benefit from.
Of course, the software is also backed by eReflect's iron-clad money back guarantee.