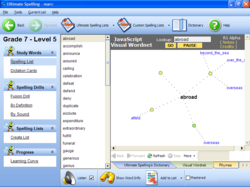 From visual learners to acoustic ones, the software is bound to have features that can make learning fun and successful.
New York City, NY (PRWEB) February 08, 2013
eReflect and the team of developers behind Ultimate Spelling software rely on user feedback to continually refine their product. In today's statement from director Marc Slater, he points out that all feedback and reviews, both positive and negative, are used by the company to make sure that the software meets the highest standards. As he notes, this approach works: according to a newly published Write Better English review, Ultimate Spelling is at the moment the best spelling software on the market, providing the latest, most effective techniques for error-free spelling.
One of the most praised features of Ultimate Spelling, according to this review, is the great diversity of activities that are almost guaranteed to fit to any level and type of learner. From visual learners to acoustic ones, the software is bound to have features that can make learning fun and successful. As the review suggests, the plethora of games and techniques on offer render Ultimate Spelling a comprehensive and hard-not-to-be-effective spelling improvement software program.
Slater commented upon reading the review, "We are quite pleased to have received such a favorable review by Write Better English. The team behind Ultimate Spelling has been working really hard to structure a smoothly working spelling software. We regard this review to be a sort of acknowledgment of these efforts."
As the review emphasizes, the fact that the software allows for more than one user makes it a perfect educational software for the whole family. A rather fascinating feature related to this multiuser capability, one that was noted by the reviewer, is the performance reports available for each user of the spelling activities.
Since the ultimate goal of each learner is to learn to spell correctly, the review makes a point of the fact that Ultimate Memory has an advanced performance tool which enables each user to track their learning progress. Obviously, this makes it easier for a user to identify their weak points and work on those more. Plus, it's a great motivation for the user to see how far they have gone since they started using Ultimate Spelling, the review concluded.
Asked about his reaction upon this latest in a string of consistently positive reviews, Marc Slater said, "We cannot swear that Ultimate Spelling is the best spelling software, but we can say for sure that we're working on making it so. There's still so much more to work on improving and as research advances, so will Ultimate Spelling."
For more information about how technology and spelling software can improve spelling performance for you and your family, please visit the official website at http://www.ultimatespelling.com.
About Ultimate Spelling™
Ultimate Spelling provides a modern and easy to use spelling software that has been designed with one goal in mind – making children WANT to learn.
It is a fast and easy way to master even the most complicated spelling, without the need to write long lists or complete boring tests.
In fact, Ultimate Spelling provides more than just spelling help. It is a complete educational resource that boosts all level of a child's literacy.
Containing a personal computer tutor, Ultimate Spelling is the most realistic step-by-step guide to flawless spelling ability.