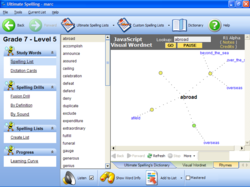 What sets this Android application apart is that it is well-structured, scientifically grounded, and has an extended set of extra features.
New York, NY (PRWEB) February 14, 2013
Ultimate Spelling creator company eReflect reported today that it fully endorses the development of a spelling book to be used on Android mobile phones. As an organization that itself is in sync with the latest technological innovations, and with an eye on how these can be smoothly integrated in educational contexts, Ultimate Spelling expressed its full support for and anticipation of the finished product.
This project is part of a published study by the University of Ljubljana, Slovenia, which presented an all-inclusive mobile application for Android operating system smartphones. What sets this Android application apart is that it is well-structured, scientifically grounded, and has an extended set of extra features. Besides the spelling book application, there's also a website dedicated to giving those interested in spelling extra activities to encourage them to learn to spell.
Marc Slater, director of the spelling software company, commenting on this spelling application, "While there are many offline spelling methods and quite a few spelling improvement applications, there was a conspicuous need for one spelling program that was both comprehensive and mobile. This is the case with this Android application, which not only has an engaging application, but also a well-informed website for those not having access to smartphones and other such gadgets. Taking into consideration all of one's potential customers — with or without smartphones — is something not all companies manage to do."
This spelling improvement application takes full advantage of how engaging and addicting the latest gadgets are and uses that advantage for educational, constructive purposes. A user can access the application for spelling exercises, using fun and games to promote correct spelling habits.
"This is what spelling software and apps have as their sole purpose, to fully engage users in the learning process without activities that are boring and ineffective. When the right proportions of learning and entertainment are combined, the result is always pleasantly surprising," Slater noted. He went on, "This is a brilliant source of spelling material for teachers as well, as they can create their own spelling drills according to their students' levels."
To find out more and get on the road to better spelling by next week, please visit: http://www.ultimatespelling.com
About Ultimate Spelling™
Ultimate Spelling provides a modern and easy to use spelling software that has been designed with one goal in mind – making children WANT to learn.
It is a fast and easy way to master even the most complicated spelling, without the need to write long lists or complete boring tests.
In fact, Ultimate Spelling provides more than just spelling help. It is a complete educational resource that boosts all level of a child's literacy.
Containing a personal computer tutor, Ultimate Spelling is the most realistic step-by-step guide to flawless spelling ability.