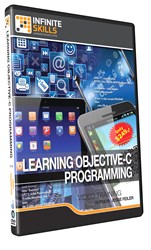 Learn Objective C At Your Own Speed
(PRWEB) February 02, 2013
Software training firm InfiniteSkills Inc. this week released its "Learning Objective-C Programming Tutorial," a course designed for software developers seeking to build a foundational understanding of the core language for Apple OS X and iOS.
Objective-C operates along with Xcode and Apple Frameworks to form the highly integrated structure of hardware and software underlying Apple operating systems. It is an object oriented programming language with an extensive history, and has formed the basis of Apple operating systems since by Steve Job brought it from NeXT in the 1996.
InfiniteSkills' Learning Objective-C Programming Training teaches the essential elements developers need to understand in order to develop applications for Apple operating systems, covering the integration of the three core elements along with critical programming elements such as declared properties and instance variables, memory management, and working with object classes.
Course author Jesse Feiler has nearly three-decades of experience in working with Apple operating systems. Working as a consultant, developer, and author, Feiler has been a master of Apple operating systems' core elements from the early days, with particular expertise in the Rhapsody, elements of which still form the basis of Apple OS X.
With Feiler's extensive and detailed experience, he guides new and experienced Objective-C developers effortlessly through complex coding problems teaching skills and techniques gathered from years of experience navigation the internal OS X terrain.
The course begins with Feiler explaining the basics of working in Xcode, introducing the workspace, the navigation and utility areas, and explaining the basics of editing code. From there, Feiler dives into Objective-C itself, explaining how to communicate with messages, examining the structure of Objective C, and several other critical tasks.
Other chapters include working with protocols and delegates, class extensions, using blocks, exception handling, and more.
"My favorite thing about Objective-C," Feiler says, "is that it evolves. It is a great, strongly integrated environment. This course will start you on the path to exploring new ways of communicating with users through apps."
Free demo videos and a full list of course contents can be found on the Learning Objective-C Programming Video Tutorial training page of the InfiniteSkills website:
http://www.infiniteskills.com/training/learning-objective-c-programming.html
InfiniteSkills offers its Learning Objective-C Programming Tutorial either as a DVD or a direct download from the company website at a retail price of $99.95. All InfiniteSkills titles and formats are both Mac and Windows compatible. Shipping is available around the globe. Additionally, InfiniteSkills tutorials are supported by project files which correspond to examples in the videos, allowing users to work alongside experienced instructors right on their computer or iPad.
About InfiniteSkills Inc.
A leader in the field of software training, InfiniteSkills strives to offer the highest quality training available at an affordable cost. InfiniteSkills tutorials are task-oriented instructional videos, teaching complex skills by providing hands-on examples and guiding users as they carry out critical objectives. InfiniteSkills offers a comprehensive range of software titles available as DVDs, digital downloads, and in iPad editions, keeping with company aim of delivering professional training to customers anywhere they want to learn.