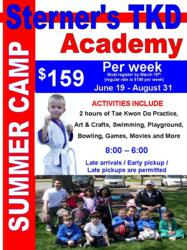 Summer camp programs include daily Tae Kwon Do practice, playground trips, field trips, swimming, arts and crafts and more. Programs are offered from ages 5-13 for full day-camp and 3-13 for half day-camp
Herndon, VA & Ashburn, VA (PRWEB) February 14, 2013
Following the recent grand opening of Sterner's Taekwondo's second location, Master Adam and Staff are pleased to announce that registration is now open for children's summer camp in Herndon and Ashburn. For a limited time early registration is offered at a discounted rate for those looking to reserve their spots. Parents and students are urged to visit Sterner's TKD and call in to inquire about programs at the Ashburn and Herndon locations.
Summer camp programs include daily Tae Kwon Do practice, playground trips, field trips, swimming, arts and crafts and more. Each day is fun and fulfilling with lots of activities. Programs are offered from ages 5-13 for full day-camp and 3-13 for half day-camp. The discounted rate is offered during the pre-registration period through March 15th.
A typical day of camp starts with warmups and stretching followed by Tae Kwon Do practice, playground time, arts & crafts, and lots of games. Weekly field trips to bowling alleys, the zoo, swimming pools and museums are also part of the camp curriculum.
The camps start at the academy location and end there each day. The Herndon Taekwondo Academy has been hosting summer camp programs for the past eight years. Sterner's TKD is excited to offer camps at the new Ashburn location this Summer as well.
At Sterner's, principles of traditional Tae Kwon Do are implemented in training to help young people learn discipline, focus and the tenets of Tae Kwon Do (courtesy, integrity, perseverance, self-control, and indomitable spirit) as a way to live a productive life – while having fun doing it.
Master Adam and Staff look forward to seeing all newcomers at the new Ashburn facility this year.