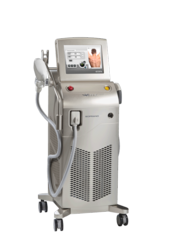 The new Soprano ICE further raises the bar for effective and safe laser hair removal.
Caesarea, Israel (PRWEB) February 12, 2013
Alma Lasers, the world's leading developer of medical aesthetic technologies, has unveiled the next generation of its award winning Soprano laser hair removal system. Called Soprano ICE, the new laser is the most effective and most comfortable method of permanent hair reduction and removal.
Soprano is Alma Lasers' flagship laser hair removal system based on the Company's patented SHR technology – a clinically proven method of effective and virtually pain free hair removal. In multiple clinical studies conducted by leading dermatologists, Soprano has been proven as safer, equally or more effective, and resulting in considerably less pain than other laser hair removal technologies.
Mr. Lior Dayan, Alma Lasers VP of Sales & Marketing applauded the new system, "Since 2006 when Alma Lasers unveiled its clinically proven SHR hair removal technology, the Soprano has become the industry's gold standard in laser hair removal. The new Soprano ICE further raises the bar in laser hair removal, and places Alma Lasers firmly in the position of industry leader."
About Alma Lasers, Ltd.
Alma Lasers is the leading supplier of innovative medical aesthetic technologies. Alma Lasers is recognized by industry practitioners for its whole-hearted commitment to providing complete solutions to professional practices. Alma Lasers offers innovative technologies, dependable equipment, knowledgeable sales staff, and years of industry expertise. We seek the creation of a strong and lasting relationship with our doctors and aesthetic clinics based on trust and a genuine desire for the success of the practice.
For more information visit http://www.almalasers.com
Facebook: http://www.facebook.com/almalasers