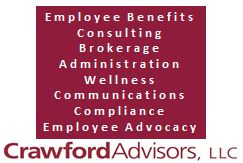 For a wellness plan to work, you must have buy-in from upper levels of management.
Hunt Valley, MD (PRWEB) February 06, 2013
Effective February 2013, Sun Automation Inc. has named Crawford Advisors, LLC its Broker of Record (BOR) to assist in the procurement and administration of its health and welfare employee benefit programs.
A 100% Employee-Owned Company, Sun Automation strives to provide its employees with top-notch benefits while remaining financially responsible to the company's budgetary goals.
Notwithstanding the robust benefits administration including branded communications and online enrollment, Sun was highly interested in Crawford's years of experience implementing employee wellness plans.
"For a wellness plan to work, you must have buy-in from upper levels of management. This was clearly the case with Sun Automation." Says Peter Cole, Partner with Crawford Advisors.
Employees will receive monetary incentives for specific goals and milestones achieved by employees and their spouses.
In addition to improved employee health and increased camaraderie , the plan is expected to yield financial savings for both the Company and its participating employees.
Sun's commitment to the well-being of its employees further solidifies its view as one of Maryland's most desired places to work.
About Crawford Advisors
Crawford Advisors, LLC is a nationally recognized employee benefits consulting, brokerage and administration firm. Partnering with medium to large sized organizations to drive a greater return on investment, its full-service approach delivers consulting and administrative solutions that eliminate paperwork, manage compliance risk, increase recruiting power, improve employee health and reduce health care costs.
About Sun Automation Group
Sun Automation Group engages in the manufacture and sale of corrugated box equipment. It offers print stations, feeders, vacuum transfer retrofits for corrugated finishing machines, die cut accuracy systems, computer control systems for finishing machines, and harmonic registers. The company also provides inking systems, folder barrier systems, sheet cleaners, and print prep units. Additionally, it offers engineered replacement parts and services in the United States, Canada, Europe, the Middle East, Latin America, and Australia/New Zealand. Further, the company provides finishing upgrades and corrugator upgrades.