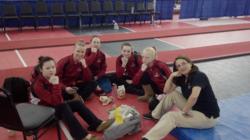 I think they were impressed with what they saw, and we weren't even in top form
Fitchburg Wiscosnin (PRWEB) February 01, 2013
Gymfinity Gymnastics, a program from Fitchburg's Gymfinity Children's Activity Center only infrequently has their upper level teams compete in Wisconsin usually opting for travel meets around the Midwest. This last weekend the teams rolled into the Wisconsin Dells for the Wisconsin Dells Gymnastics Vacation Classic, a large meet with over 1500 competitors.
Friday saw competition for the Xcel teams, a level outside of the USA-Gymnastics Junior Olympic program. The Xcel program limits the time that an athlete can train, and thus becomes the program of choice for gymnasts with busy schedules who still want competition but just don't have the time. Gymfinity's teams placed well, in fact the Gold Level team placed second overall. Individually Gymfinity gymnasts showed very well including a championship 1st place for Lauren Pipp (age 14) All Around, Floor and Beam. Top places on the team went to: Emma McGuire (age 14 Gold Level) 4th on bars, Jeneva Ford (age 14 Silver) Placed 2nd on vault, Elizabeth Tisch (age 14 Platinum level) placed 2nd vault and bars, Hannah Posick (age 15, Diamond level) 1st on floor, 2nd on all other events including all around, Kenzie Jolicoeur (age 15 Platinum) 1st on vault, Lexi Karls (age 11 Gold) placed 1st on vault, floor and all around, Annie Maher (age 11 Gold) 1st on beam and vault and 2nd all around.
Gymfinity's USA-G Junior Olympic teams competed on Saturday, starting with the Level 7 team starting bright and early in the morning. They got the team's momentum rolling with a 5th place finish overall. Gymfinity level & proved to be a dominating force on floor exercise with every gymnast scoring above a 9.2. Multiple places were taken on the floor: Sophie Alberts (age 12) placed 4th, Angeline Flogel (age 13) placed 3rd, Jordan Baggot (age 11), Olivia Castleberg (age 15) and Rylie Gramann (age 13 each placed 2nd in their age group, leaving Abbie Davis (age 12), and Addie Schipper (age 13) to take the 1st place title in their respective age groups. When the 13 year olds took the podium Flogel, Gramann and Shipper held hands in a show of team strength and unity. All gymnasts but one placed on floor. The one, Sydney Lowry missed floor by a hair's breadth but championed in her own right on bars with the first place title for that event, and placing 8th in the All Around.
The Level 8 team suffered without one of the top team all arounders being sidelined with an injury. Stella Fedele was sorely missed by her team mates but the team still had their moments of greatness. Including Placements for Caitlin Pueschner (6th on floor), Maddie Sowinski 7th on beam, 8th all around), Skye Swartz (4th on Vault and Bars and 6th All around) and Senior Hannah Hageman (5th on beam and 1st place on the floor). The team was unable to take a valid team position because 2 of the remaining team members are event specialists leaving Gymfinity short one scoring position on 2 different events.
The level 9 team competed in the late afternoon and quietly surprised the teams present with outstanding performances in both individual and team competitions. As a team Gymfinity Placed 3rd behind a Wisconsin team M&M Gymnastics (home of Olympian Chelsea Memmel) and the Arizona Sunrays. Individually honors went to Haley Gawronski placing 6th in the All Around and on several events, and Kacey Mortenson placing 6th in her age group for all around and 2nd on Floor. Taking top honors as 1st place was Chelsea Gray on beam, (also placing 2nd on floor and 2nd All Around), Mari Schroeder on floor and Brianna Slonim who won vault and also placed top 5 in every other event including a 3rd in the All Around competition.
"This was an unusual meet" said coach J Orkowski "since we don't compete often in Wisconsin this was the first chance other Wisconsin teams had to see us. I think they were impressed with what they saw, and we weren't even in top form." Gymfinity's team returns to training before their next competition in Green Bay Wisconsin, their only other home state meet before State Championship, on February 9th.