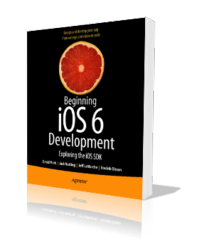 "This book quickly gets readers started on creating their own apps for iPhone, iPod touch and the iPad."
New York, NY (PRWEB) February 12, 2013
More and more companies are realizing the importance of building their own apps for their customers to remain connected and stay loyal to the brand. The need for developers has never been greater. There are several tools and classes out there to reach these aspiring app creators. Apress Media brings cutting edge information for those aspiring to develop on the latest mobile operating system by Apple with this latest book.
"Beginning iOS6 Development," written by a team of development experts including David Mark, Jack Nutting, Jeff LaMarche, and Fredrik Olsson. This book is written in a friendly, easy to follow style and includes chapters on storyboards and iCloud, as well as significant updates to existing chapters to bring them in line with all the changes that came with the iOS 6 SDK. Reader's will have everything they need to create their very own apps for the latest iOS devices, including the iPhone 5, iPad, and the latest iPod touch. Every single sample app in the book has been rebuilt from scratch using latest Xcode and the latest 64-bit iOS 6-specific project templates and designed to take advantage of the latest Xcode features. Assuming only a minimal working knowledge of Objective-C, Beginning iOS 6 Development offers a complete course in iPhone, iPad, and iPod touch programming. The book starts with the basics, walking through the process of downloading and installing Xcode and the iOS 6 SDK, and then guides readers though the creation of their first simple application.
"Beginning iOS6 Development" author Jack Nutting confirms that "The iOS developer world is exploding with activity these days. It seems that every year there are twice as many conferences and books focused on iOS development, and more companies are starting new iOS development projects every day." He understands the frustrations that beginning developers face especially when the tools available aren't necessarily up to date. Which is why this book has just been released. He said, "We've all been through the difficulty of approaching unfamiliar software with tutorials and articles that describe an older version: the mental gymnastics of trying to map an old description to a new user experience can easily get in the way of learning. "Beginning iOS 6 Development" is designed to guide you along a path to proficiency, helping you learn the concepts and tools you need to realize your app dreams. " "Beginning iOS6 Development" is packed full of tricks, techniques, and enthusiasm for the new SDK from a developer's perspective. It quickly gets readers started on creating their own apps for iPhone, iPod touch and the iPad.
To learn more about Beginning iOS6 Development, visit http://www.apress.com/9781430245124

ISBN13: 978-1-4302-4512-4
*764 Pages
*User Level: Beginner to Intermediate
*Publication Date: January 21, 2013
*Available eBook Formats: EPUB, MOBI, PDF
*Print Book Price: $39.99
*eBook Price: $27.99
About the Authors
Dave Mark is a longtime Mac developer and author who has written a number of books on Mac and iOS development, including Beginning iPhone 4 Development (Apress, 2010), More iPhone 3 Development (Apress, 2010), Learn C on the Mac (Apress, 2008), The Macintosh Programming Primer series (Addison-Wesley, 1992), and Ultimate Mac Programming (Wiley, 1995).
Jack Nutting has been using Cocoa since the olden days, long before it was even called Cocoa. He has used Cocoa and its predecessors to develop software for a wide range of industries and applications, including gaming, graphic design, online digital distribution, telecommunications, finance, publishing, and travel. When he is not working on Mac or iOS projects, he is developing web applications with Ruby on Rails. Nutting is a passionate proponent of Objective-C and the Cocoa frameworks. Nutting is the primary author of Learn Cocoa on the Mac (Apress, 2010) and Beginning iPad Development for iPhone Developers (Apress, 2010). He blogs from time to time at Nuthole.com.
Jeff LaMarche is a Mac and iOS developer with more than 20 years of programming experience. Jeff has written a number of iOS and Mac development books, including Beginning iPhone 3 Development (Apress, 2009), More iPhone 3 Development (Apress, 2010), and Learn Cocoa on the Mac (Apress, 2010). Jeff is a principal at MartianCraft, an iOS and Android development house. He has written about Cocoa and Objective-C for MacTech Magazine, as well as articles for Apple's developer web site. Jeff also writes about iOS development for his widely-read blog at http://iphonedevelopment.blogspot.com.
Fredrik Olsson has been using Cocoa since Mac OS X 10.1, and for iPhone since the unofficial toolchain. He has a long and varied career ranging from real-time assembly to enterprise Java with a passion for Objective-C for its elegance, Cocoa frameworks for their clarity, and both for creating a greater whole than their parts. When away from a keyboard Fredrik has spoken at conferences and lead developer training.
About Apress Media
Apress Media is a technical and business publisher devoted to meeting the needs of IT professionals, software developers, programmers, and business leaders with more than 1,000 books in print and electronic formats. Apress provides high-quality, no-fluff content that helps serious technology professionals build a comprehensive pathway to career success. Since 2007, Apress has been part of Springer Science+Business Media, one of the world's leading scientific, technical, and medical publishing houses, enabling global distribution of Apress publications.
For more information about the innovative approach Apress takes to publishing, please visit http://www.apress.com.